Contact Amy: amysimon@sheshistory.com (310) 308-0947 ***
PHOTO CREDIT Robin L Gallagher
PHOTO CREDIT Robin L Gallagher
*****************************************************************************************************
BLOG – MARCH 2014
THE HERSTORY OF WOMEN'S HISTORY MONTH

What is the woman's movement?
A BOY asked this of his high school teacher in Los Angeles in 1972.  He was taking a U.S. History class and had seen the brand new Ms. Magazine.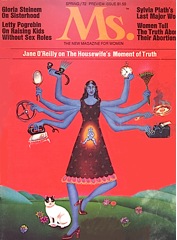 THIS question led to what we now know, celebrate and honor as Women's History Month!
Molly MacGregor, twenty-six year old history lover was this boy's social studies teacher. Molly gave me, Cultural Herstorian Amy Simon, a good hour of her valuable time for an interview and I got the story.  And it is a GREAT story of passion, politics, persistence and triumph, proving once again what Cultural Anthropologist Margaret Mead said that was oh so right:  "Never doubt that a small group of thoughtful committed citizens can change the world.  Indeed, it is the only thing that ever has."
Molly said it was on a Friday when the boy asked the question, "what is the Women's Movement,"  and she was glad, because, she said, "I needed the weekend to come up with the answer."  So she says to the boy, "that's a good question."  She goes home and searches in her own personal extensive library of history books – looking for information and finds ONE BOOK called Freedom Ferment with ONE chapter on Seneca Falls (home of the first Women's Convention) and that was it!
So a seed was planted.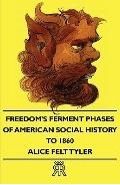 HERMONIOUS CONVERGENCE
In 1972, Congress FINALLY said yes to the Equal Rights Amendment (first brought to the House and the Senate by its author – the great Alice Paul -  way back in 1923).  It was on its way to ratification (thirty-five out of the necessary thirty-eight states passed) when Republican, lawyer, and anti-feminist mother Phyllis Schlafly, used her impressive organizational skills, personal passion, and powers of persuasion and got it stopped.
******************************************************
Read The Wall Street Journal's Piece About
SHE'S HISTORY'S partner
The Museum Of Motherhood in New York City
By RALPH GARDNER JR.
Cassandra Giraldo for The Wall Street Journal
For those who are unfamiliar with the Museum Mile Festival, it's an evening in June when Fifth Avenue from the Metropolitan Museum all the way to the Museum of the City of New York and El Museo del Barrio is closed to traffic, and admission to the cultural institutions along its route is free. There are also street performers and other activities, and even though I wouldn't necessarily recommend it to anybody else, I find a gin and tonic secreted in a water bottle adds a festive note to an already festive occasion.
At this year's event I actually discovered a new museum, though it's not one of those along Fifth Avenue. It's called the Museum of Motherhood, and it occupied one small table at the event. Joy Rose, the museum's founder, was there handing out postcards. They featured a cookie-cutter impression of a mother colored in with the New York City subway map, artfully suggesting the opportunities amid the chaos of raising children in the city.
Ms. Rose's hope was to raise public awareness and also to entice passersby to visit the East 84th Street museum—if not that evening, at some point in the near future.
I did so last week. I was curious to learn what sort of exhibits a motherhood museum might include, and who its audience might be. The institution is in the basement of a modern apartment building off First Avenue, in a space previously occupied, perhaps appropriately enough, by a Gymboree. But unlike Gymboree, which I'm under the impression has no political agenda, the Museum of Motherhood has a strongly feminist bent, reflecting Ms. Rose's values and aspirations.
While not in the least an homage to Ms. Rose, a divorced mother of four grown children, the museum does sport a poster from the Mamapalooza Festival, which she started. It shows her in a shocking pink outfit and singing some anthem or another, and nearby a dress that appears to be made entirely of cold-cereal boxes.
"I was an artist for years," she explained. "I'm a founder of the idea of the 'Mom Rock' movement. My first band, in 1997, was Housewives on Prozac."
Hadn't heard of them. But I had heard of Betsey Johnson, the designer for whom Ms. Rose said she worked before she had kids.
"I was a feminist college grad working in New York City, managing a store for Betsey Johnson. I opened her second store, in SoHo. I was part of the original team.
"Normally, I'd make you wear the pregnancy vest," she went on, handing me what looked like a combination Snugli and police bullet-proof jacket. Apparently meant to simulate the onerousness of pregnancy, it was so heavy I almost dropped it. "That's a typical term pregnancy," she claimed. "Thirty-five to 40 pounds."
There's lots of art, information and activities packed into a space approximately the size of a spacious one-bedroom apartment. The museum is both a play and an exhibition space. And there's also a classroom where courses in "mother studies" are conducted.
These might be as much about consciousness-raising as the nuts and bolts of bringing up baby. "I'm not talking about changing diapers or playing with your child," Ms. Rose said. "It's about having a much more robust procreative experience."
And that involves valuing the importance of motherhood. "I felt the impact of doors that had previously been open being closed," she remembered of her own experience, "and finding myself in a society that didn't value what I was doing as a caregiver."
During the late morning of my visit, there were a couple of moms and one caregiver with either babies or toddlers. I'll get to the exhibits shortly. But I know from my own experience raising children in the city, or more accurately my wife's experience, that there are at least two elements that can help transform the odyssey from a chore to a happy adventure. One of them is a support group of like-minded moms. The other is a safe, fun, convenient place where you can take the kid on a rainy or cold day, and that doesn't charge an arm and a leg for the privilege.
The Museum of Motherhood seems to meet both requirements. "I'd rather come here to support your cause than go to Barnes & Noble, BKS +0.11% " Laurie Kasloff told Ms. Rose. She's a neighborhood mother who started visiting the museum when her son Alexander Lion, now 13 months, was 6 months old. "In such a crazy, busy city to have a place that's supportive of families…there's so many classes that you have to pay $50 to go to."
The museum asks a $15 donation that covers use of the play space and programs; an annual $100 membership includes eight discounted visits. But Ms. Rose said nobody is turned away for lack of funds. Her challenge at the moment is to find a more permanent location for the museum. She has to be out of the current space, sponsored since the museum opened 21 months ago by NYC Gymboree franchise owners Debra Whitefield and Barry Hanson, by March.
Another obstacle is raising money for the museum's survival. "I've been doing a lot of grant writing," she confided.
The mixed-use nature of the space—combining art, play and politics—lends the space and perhaps also the play experience (probably more so for parents and caregivers than the infants and toddlers) a certain richness and energy.
For example, the play area, which has a play center complete with small slide (wooden, of course), resides under a wall-size photograph of '60s civil-rights protesters hoisting signs that say things such as: "We demand equal rights now."
Also, the corner where adults can hang out is called the "suffragette seating area," and there's an exhibit—almost a diorama—that depicts a 19th-century parlor in Seneca Falls, birthplace of the women's rights movement. "What we tell people is these women were also making their own bread, making their own clothes," Ms. Rose explained. "If they have time to be activists, we have time to be activists."
There are also posters on pillars depicting birthing practices, some quite medieval, through the ages. "This is the shock and awe part of the museum," Ms. Rose joked.
While gaining motherhood the recognition it deserves is no easy lift, it's certainly pleasant to have a place where you can discuss its challenges with like-minded mothers while keeping one eye on your kid. Because not only is motherhood unpaid, at times it can be quite tedious.
"This is a postage stamp version," Ms. Rose explained, "of a much grander vision."
*********************************************************************
PAST EVENTS
Malibu
Sunday April 6th at 7:00PM
Presented by Carla and Leigh McCloskey, whose beautiful private home called OLANDAR is an event venue, filled with amazing art.
Come a little early and enjoy the exhibit before the show.
Donation: $20.00
Location: Olandar, Home of Carla and Leigh McCloskey in Malibu,Ca 
For address, more information and RSVP:
SAN DIEGO
The WOMEN'S MUSEUM OF CALIFORNIA
2730 Historic Decatur Rd. Barracks 16
SATURDAY March 22nd at 7:00PM
BUY TICKETS
SUNDAY MARCH 23rd at 3:00PM
BUY TICKETS

LOS ANGELES
SUNDAYS AT 5PM DECEMBER 8th, 15th, AND 22nd AT THE LOUNGE THEATER
6201 Santa Monica Blvd
Hollywood
LOS ANGELES
SUNDAY, OCTOBER 13th, 2013
2:00PM MATINEE
SHE'S HISTORY! RETURNS TO
The Lounge Theater

in Hollywood
6201 Santa Monica Blvd (two blocks East of Vine)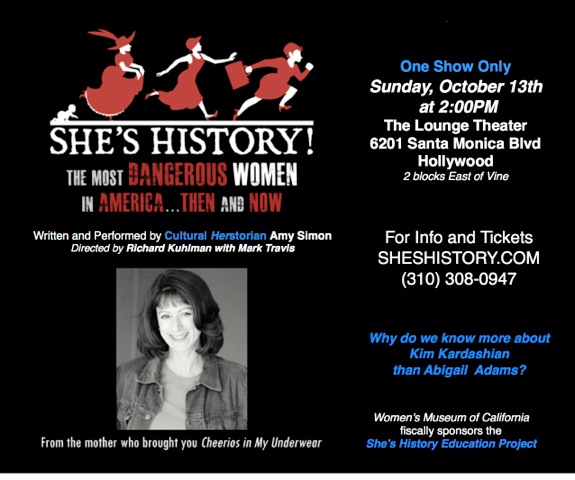 Saturday September 14th at 11AM
Banning Residence Museum
401 East M Street, Wilmington, CA 90744
Tel: (310) 548-777
Sunday April 21st at 2:00PM
The Lounge Theatre
6201  Santa Monica Blvd (2 blocks East of Vine)
Los Angeles, CA 90038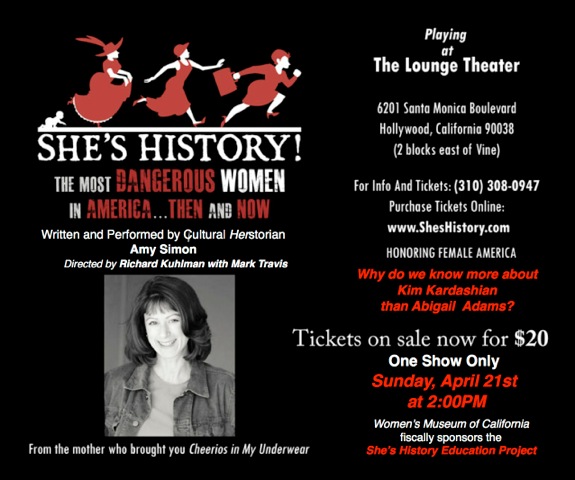 ***
Thursday February 21st  at 7:00PM
Rancho Los Cerritos Historic Site
4600 Virginia Road
Long Beach, California 90807(562) 570-1755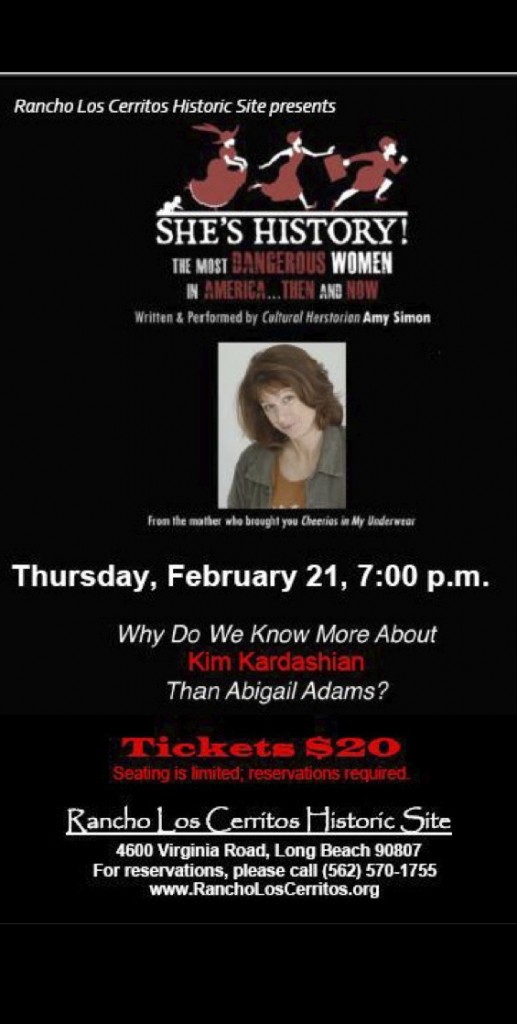 *********************************************************************
THANKSGIVING FUNDRAISER
New York City
SATURDAY NOVEMBER 17th at 7:00PM
The Museum Of Motherhood
401 East 84th Street at 1st Avenue (212.452.9816)
http://www.mommuseum.org/theater/
***********************************
NEW YORK CITY

MONDAY NOVEMBER 19th
5:30-8:30PM
Manhattan Borough President's Office
One Centre Street
Exhibit Runs November 1st-30th
Reception Monday November 19th

Women On The Move Celebrates
The Thirty-fifth Anniversary of
The National
Women's Conference of 1977

Ticket Info Coming Soon
Presented by Jeanette Watson Sanger and
Diana Mara Henry – Bella Abzug's Official Photographer
Featuring Former Commissioners, Delegates and Bella's Former Staffers
Honored Guests Include:  Former Commissioner Rita Elway Brogan
Feminist, Author and Activist Kate Millet
and Amy Simon performing as Bella Abzug
***********************
Texas, November 19th, 1977 The Spirit Of Houston
Trail Blazing, Hat-Wearing, Peace-Making Bella Abzug – who joined Congress at the age of fifty – pulled off another miracle, organizing The National Women's Conference which she got the government to pay for!  A Fabulous Federal First and a major major coup! With a "special emphasis on the representation of low-income women, members of diverse racial, ethnic, and religious groups, and women of all ages," every state was represented with two thousand delegates, along with eighteen-thousand women and supportive men, many husbands, who supported their wives by carrying their little babies so the moms could go to meetings.  Also carried – a torch from Seneca Falls, New York (home of the First Women's Conference in 1848) to Houston, Texas.  It was presented to Lady Bird Johnson, Betty Ford and Rosalyn Carter who said it was"…the most important and exciting conference I have ever attended".  Also on hand, Coretta Scott King, Maya Angelou, Billie Jean King and of course the glorious Gloria Steinem, to name a few. The thirty-fifth Anniversary of this historic event is being celebrated in Manhattan, Monday, November 19th 2012, with yours truly speaking as Bella Abzug.
FROM LEFT TO RIGHT

Lady Bird Johnson, Rosalyn Carter, Betty Ford and Bella Abzug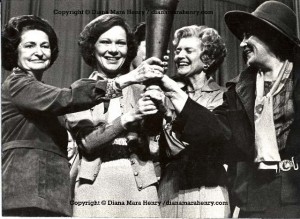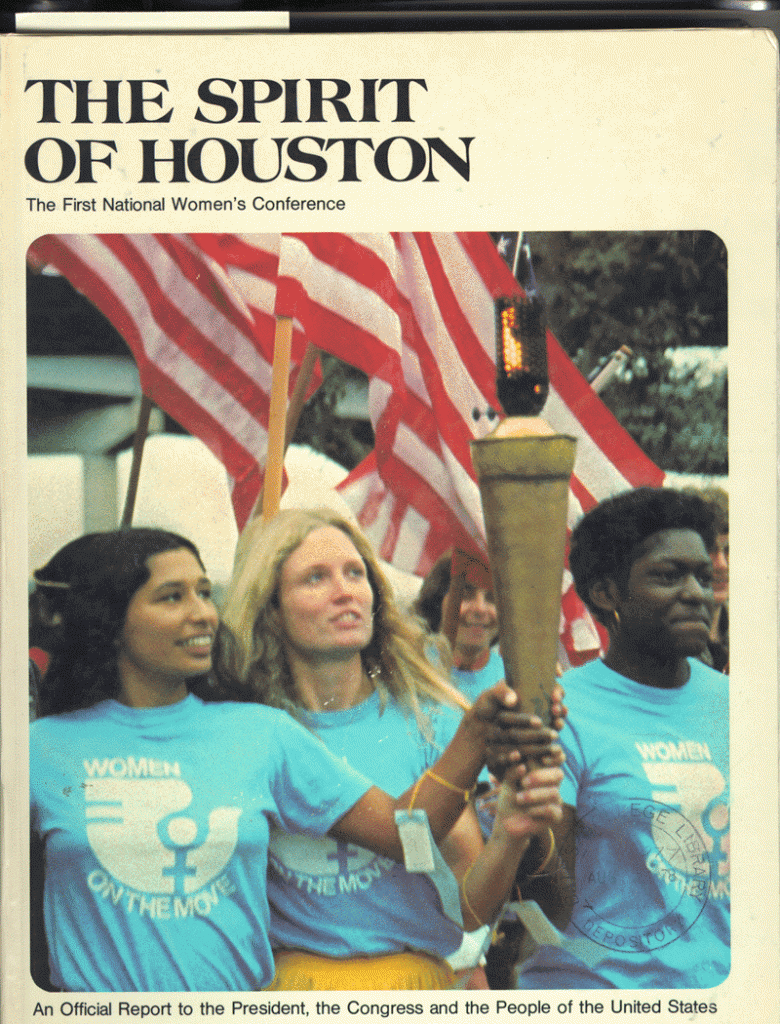 ********************************************************************
PAST EVENTS
SUNDAY, OCTOBER 21st at 7:00PM

SHE'S HISTORY! back at The Lounge Theater in Hollywood
6201 Santa Monica Blvd at El Centro (just East of Vine)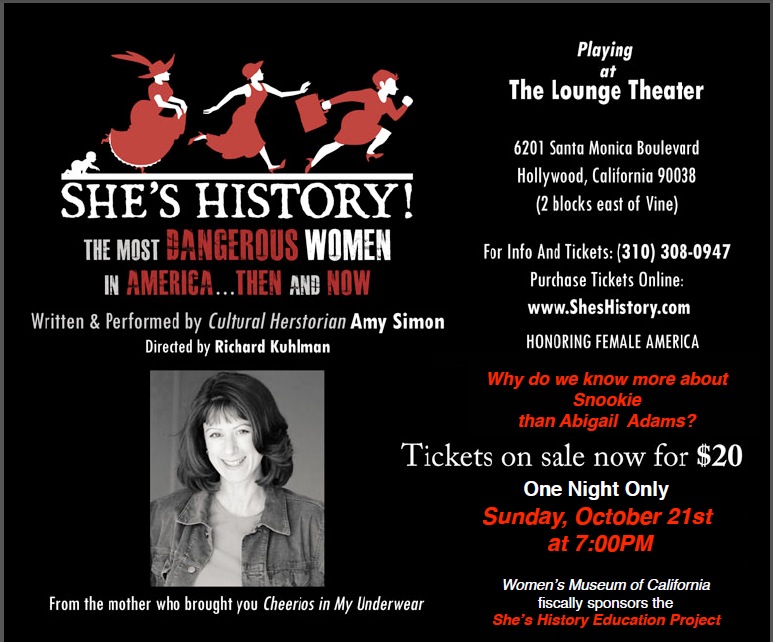 July 11th New York City

Los Angeles – Three Matinees In May

SHE'S HISTORY! back at The Lounge Theater in Hollywood
Sundays at 2:00PM
May 6th, Sunday May 13th – MOTHER'S DAY! and Sunday May 20th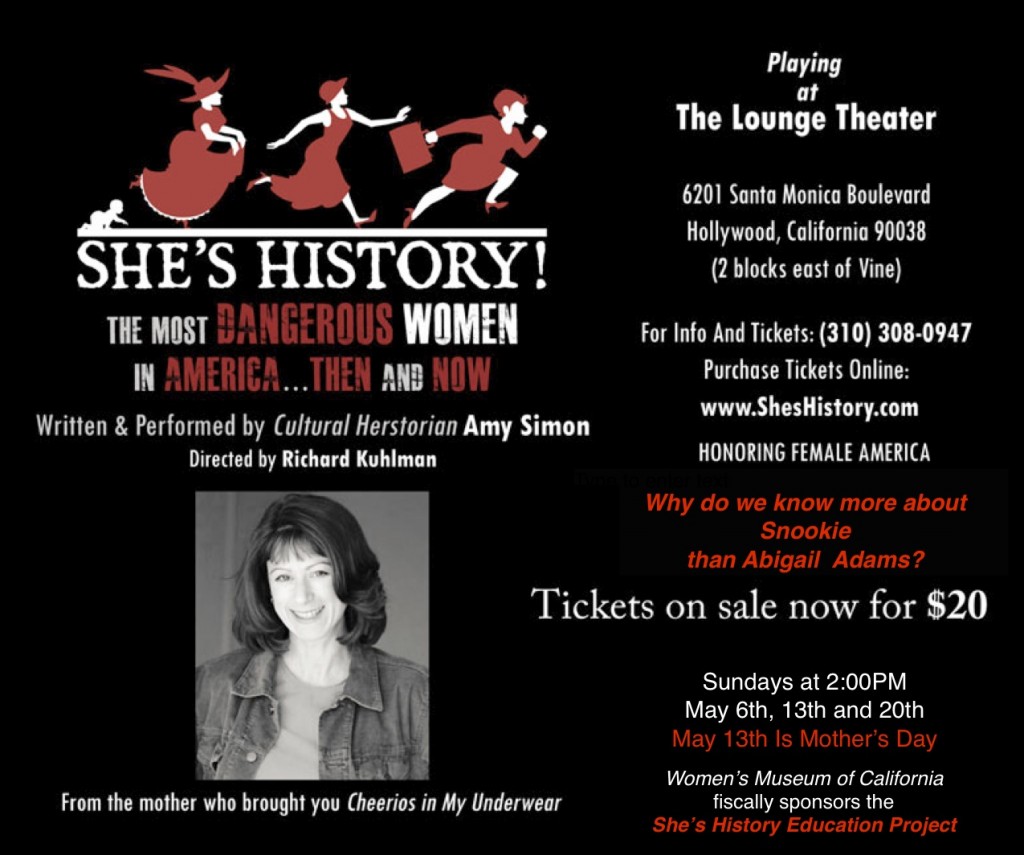 New York City, March 2012
Benefit for Museum Of Motherhood
********************************
San Diego, California
March 2012

Women's Museum Of California Fundraiser
Downtown YWCA Auditorium

******************
Monterey, California
March 15th
U.S. Army Fort Hunter Liggett
Ethnic Observance Women's History Month

***********************************************************************
Burbank, California
Burbank Public Library Young Adult Services

7:00PM Thursday, February 23, 2012
Buena Vista Branch Library
300 N. Buena Vista Street, Burbank, CA 91505
(818) 238-5620
FREE!

******************************************************

Boynton Beach, Florida
Monday February 13th
Banyan Springs Woman's Club
Private Show
************************************
****************************************************
Los Angeles
SHE'S HISTORY! was BACK in Los Angeles at The Lounge Theater in Hollywood for just one weekend – three shows: