Photo Credits: Robin Gallagher
*****************************************************************************************************
UPCOMING EVENTS
Stay Tuned!
A New All Female Multi-Cast Version of the Play Is On The Way!
It's been two years since the first Multi-Cast Staged Reading in June, 2014 at Samuel French Bookstore in Los Angeles.  Now, after developing the play for the last year in the Writer's Workshop at Theatre West,  where I am a company member…
SHE Is History! is making its way to the stage.
STAY TUNED….
*****************************
LATEST BLOG
MARCH 2016
It's Women's History Month! Allow me to enlighten, highlight, celebrate and honor a few – just a few – utterly fabulous females who – in 2015 – heroically inspired, educated, entertained, motivated and ultimately empower US to follow their lead.
**DISCLAIMER: No way I could cover ALL the fabulous females! So please feel free to post your own at:
https://www.facebook.com/Shes-History-The-Most-Dangerous-Women-in-America-Then-and-Now-383372816873/
Let's start with Patricia Arquette, who admits to losing two acting jobs from her acceptance speech demanding equality for women at the 2015 Oscars.
"I'm okay with that," she said. "But it's not just about acting, and it's not about me as an actor. I don't believe this is fair for anybody. I want to live in the America I believe in, that really is fair, that really has possibilities, and really does treat people of all races and all sexes equally."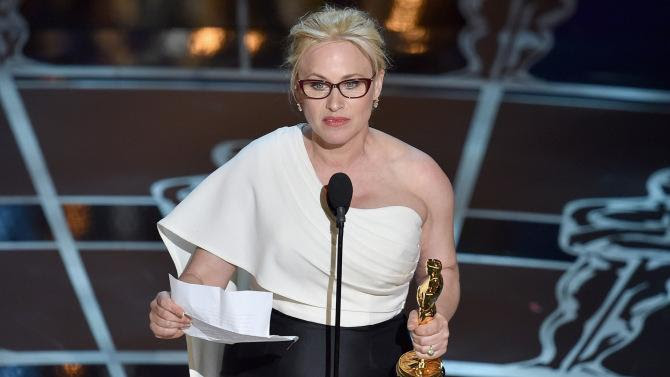 Her speech caused a FIRESTORM! She won her Best Supporting Actress Oscar for playing a divorced working, struggling, abused, educated American mom in the groundbreaking film Boyhood.
In 2014, The Sony hackers did a GREAT job of exposing Hollywood's salary gender inequity. That's how Jennifer Lawrence became enlightened, and wrote her highly publicized 2015 essay, "Why Do I Make Less Than My Male Co-Stars".
http://www.lennyletter.com/work/a147/jennifer-lawrence-why-do-i-make-less-than-my-male-costars/
Charlize Theron negotiated a ten million dollar raise, and many more actresses – and actors – came out publicly supporting the women, condemning the system and demanding equality.
Natalie Portman agreed to play the role of Supreme Court Justice Ruth Bader Ginsberg in the biopic, but ONLY if a FEMALE director got hired.
http://time.com/3921744/natalie-portman-ruth-bader-ginsburg-female-director/
And NOW, the ACLU is investigating sexism in Hollywood. Of course, Geena Davis and her Institute On Gender In Media (http://seejane.org) has been working on this for YEARS!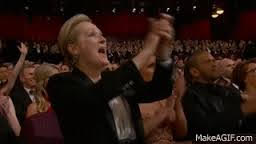 "We need half. That's all we ask. Half. Half. In the House. In the Senate. At Universal. At Sony. If it were half, I can't say the world would be better, but it would be representative," said Ms. Streep on a press tour.
Rising to her feet, clapping wildly as she supported Arquette at the 2015 Oscars, was Meryl Streep, also nominated for her role in Into The Woods. But Meryl Streep's ROLE MODELING continued in 2015 when she played the pioneering, militant, bomb throwing, window smashing, vote getting suffragette Emmeline Pankhurst, in the film Suffragette. This tragically realistic story of what women went through and sacrificed, to participate in the elective franchise, was directed by a woman, Sarah Gavron. It was written by a woman named Abi Morgan, who also wrote the 2011 film Iron Lady about Margaret Thatcher, starring Meryl Streep. Meryl Streep donated ONE MILLION DOLLARS of her Iron Lady salary to help build A National Women's History Museum in Washington D.C. Yeah, we don't have one. Still. No physical museum. Just a virtual one.
In Los Angeles in 2015, twenty million dollars was just spent building a car museum. Yup.
*****************************
PAST EVENTS
SUNDAY MARCH 13th, 2016 at 2:00PM
CELEBRATE WOMEN'S HISTORY MONTH!
The Lounge Theatre in Hollywood
6201 Santa Monica Blvd., 90038
2 blocks East of Vine – Sunday street parking is free
( Sunday March 13th is Daylight Savings – clocks go ahead one hour)
 (310) 308-0947

Women's Equality Day 2015
SHOW UP, BECAUSE WE WON…
Yes, we WON … the right to vote!
It's Women's Equality Day!
Come celebrate with a performance of
SHE'S HISTORY! at The Lounge Theatre
Sunday, August 23rd, at 5:00 PM
6201 Santa Monica Blvd., Hollywood, CA 90038
(Two blocks East of Vine. Sunday street parking is free.)
Info and Reservations: (310) 308-0947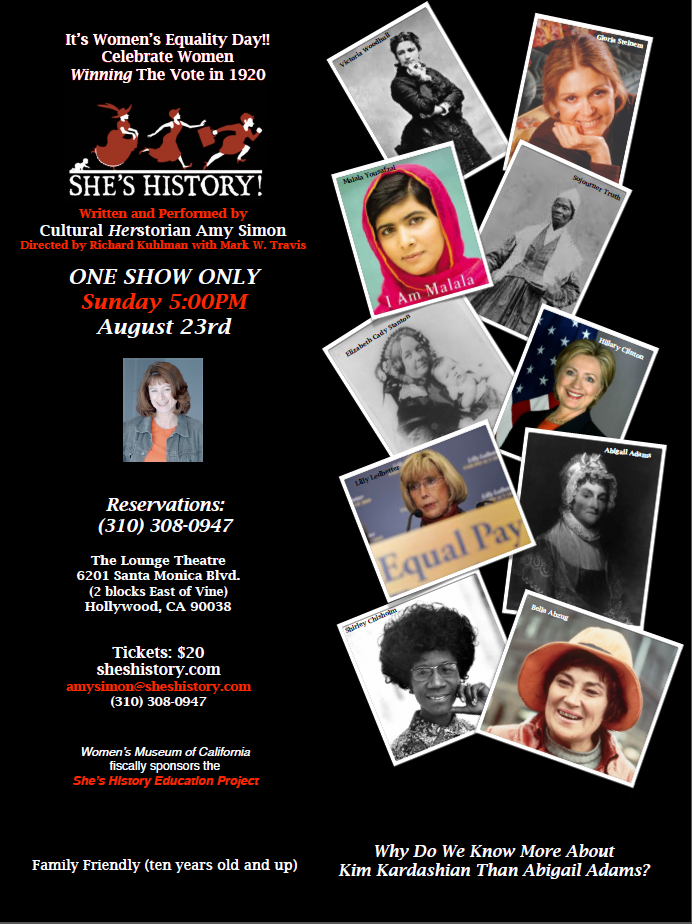 *****************************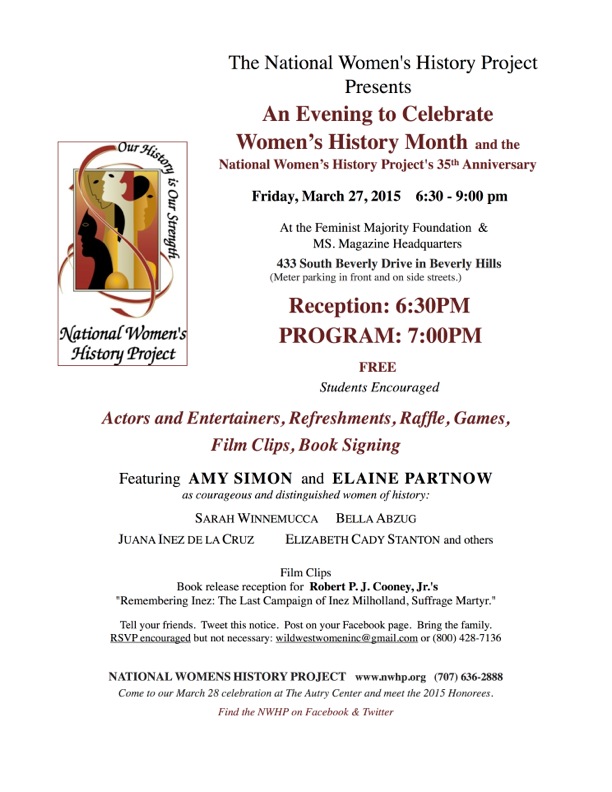 *****************************
SUNDAY DECEMBER 7th at 2:00PM
The Lounge Theatre, Hollywood, California

Part of Hollywood STAG
6201 Santa Monica Blvd. (2 blocks East of Vine)
Produced by Theatre Planners
Tickets: $20
BUY TICKETS
or call (323) 960-7788  to reserve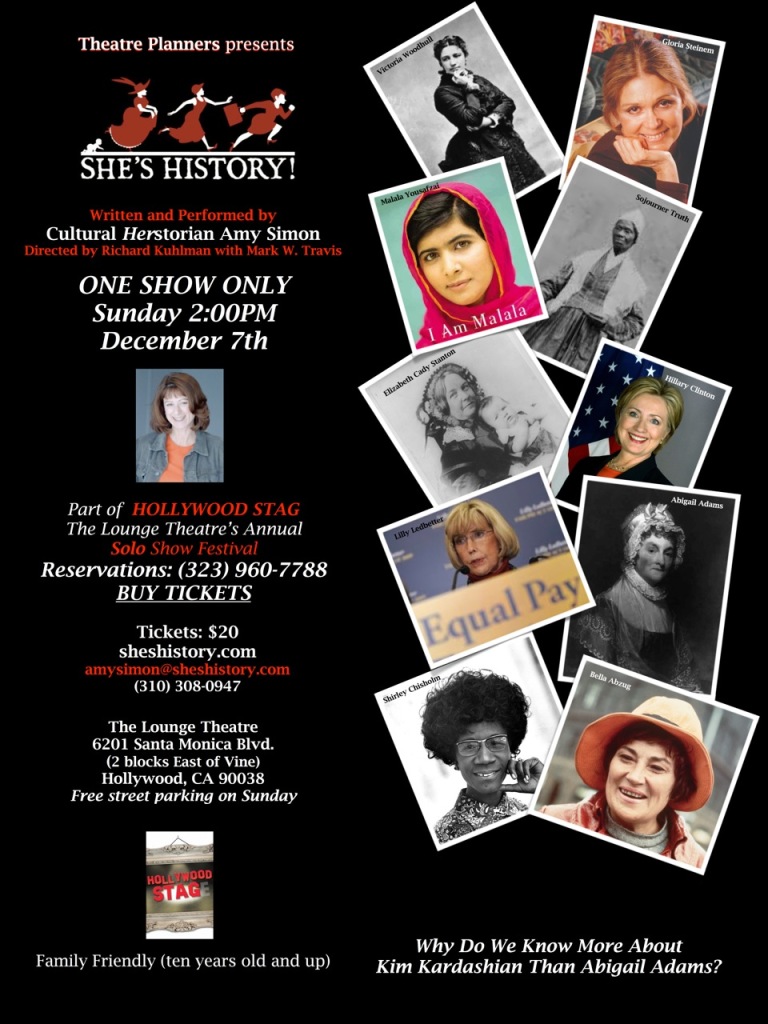 *****************************
SUNDAY OCTOBER 19th at 3:00PM
WEST HOLLYWOOD, CALIFORNIA
CITY COUNCIL CHAMBERS (LOCATED NEXT TO JONES COFFEE)
WEST HOLLYWOOD LIBRARY
625  N. San Vicente Blvd., West Hollywood, , California  90069
Free Parking with validation in the West Hollywood 5-story parking structure
Tickets:  $20
Discounts for WEHO residents, seniors and students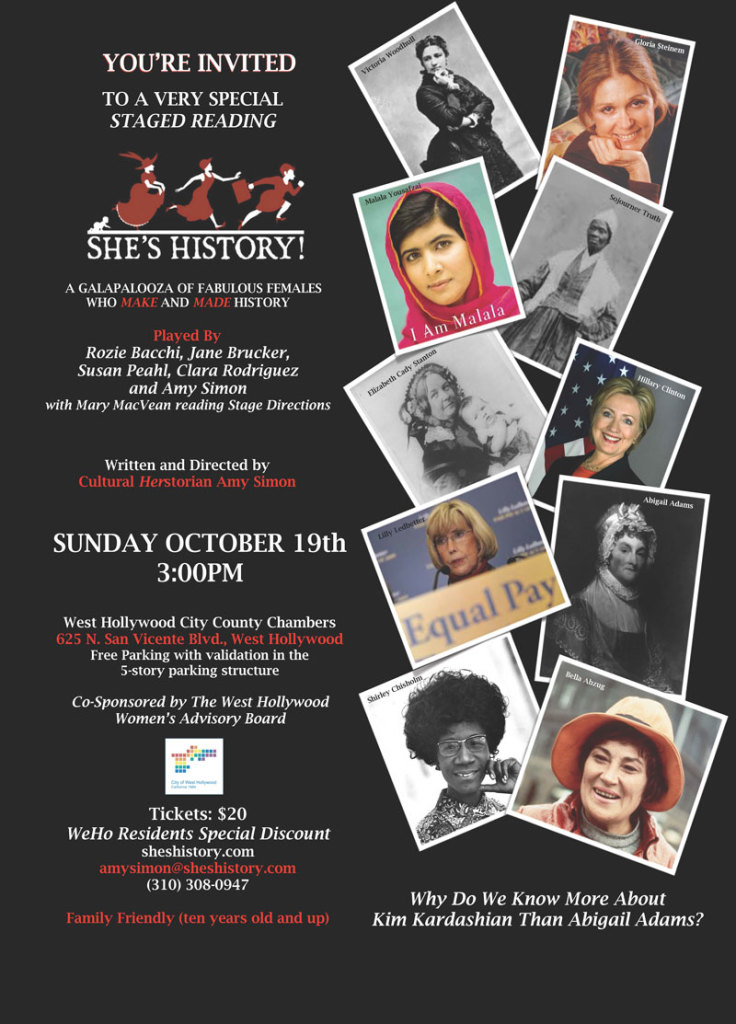 *****************************
Tuesday, August 26, 2014    6 pm – 9 pm
West Hollywood City Council Chambers & Auto court
625 N. San Vicente Blvd, West Hollywood, CA 90069

Join the West Hollywood City Council and the West Hollywood Women's Advisory Board for an empowering and interactive event commemorating the 94th anniversary of the certification of the 19th Amendment, which granted women the right to vote in the United States.
The celebration will include special guest speakers Keltie Knight, The Insider; Elizabeth Ralston, President, League of Women Voters, Los Angeles, a theatrical performance from the play "She's History" by Cultural Herstorian Amy Simon, followed by a reception.
The event is FREE and OPEN to the public!
Free Parking with Validation in the 5-story parking structure.
The program will be televised on WeHoTV and available on demand at www.weho.org 
RSVP: whwedrsvp@gmail.com or 323-848-6823
Co-Sponsored by:  Feminist Majority, Ms. Magazine, National Women's History Museum, League of Women Voters of Los Angeles,National Council of Jewish Women/Los Angeles, and Hollywood NOW.
LOS ANGELES – SATURDAY JUNE 21st at 3:00PM
Upcoming Special Staged Reading 
Read all about it and more…. 
Malibu
Sunday April 6th at 7:00PM
Presented by Carla and Leigh McCloskey, whose beautiful private home called OLANDAR is an event venue, filled with amazing art.
Come a little early and enjoy the exhibit before the show.
Donation: $20.00
Location: Olandar, Home of Carla and Leigh McCloskey in Malibu,Ca 
For address, more information and RSVP:
SAN DIEGO
The WOMEN'S MUSEUM OF CALIFORNIA
2730 Historic Decatur Rd. Barracks 16
SATURDAY March 22nd at 7:00PM
SUNDAY MARCH 23rd at 3:00PM

LOS ANGELES
SUNDAYS AT 5PM DECEMBER 8th, 15th, AND 22nd AT THE LOUNGE THEATER
6201 Santa Monica BlvdHollywood
LOS ANGELES
SUNDAY, OCTOBER 13th, 2013
2:00PM MATINEE
SHE'S HISTORY! RETURNS TO
The Lounge Theater
in Hollywood
6201 Santa Monica Blvd (two blocks East of Vine)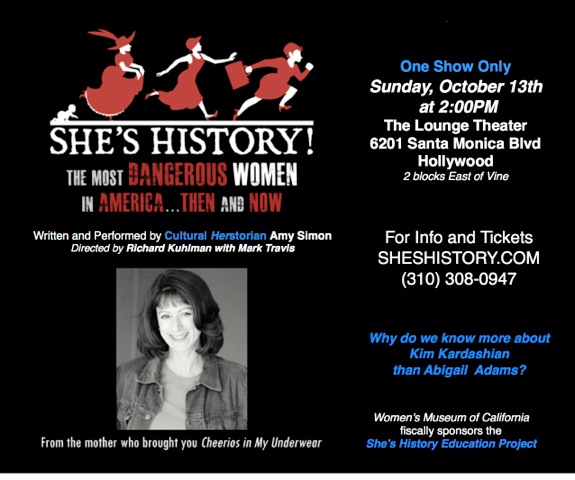 Saturday September 14th at 11AM
Banning Residence Museum
401 East M Street, Wilmington, CA 90744
Tel: (310) 548-777
Sunday April 21st at 2:00PM
The Lounge Theatre
6201  Santa Monica Blvd (2 blocks East of Vine)
Los Angeles, CA 90038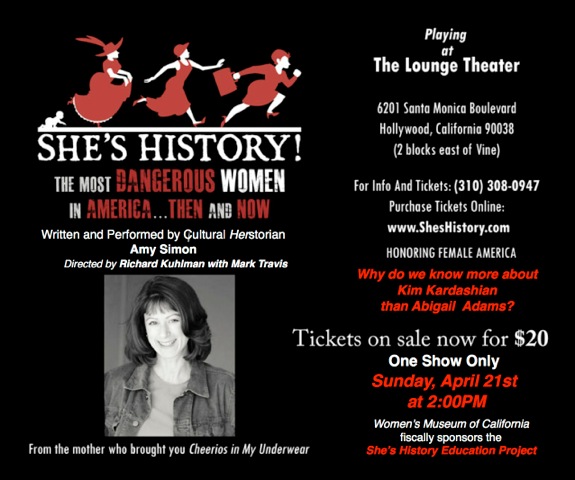 ***
Thursday February 21st  at 7:00PM
Rancho Los Cerritos Historic Site
4600 Virginia Road
Long Beach, California 90807(562) 570-1755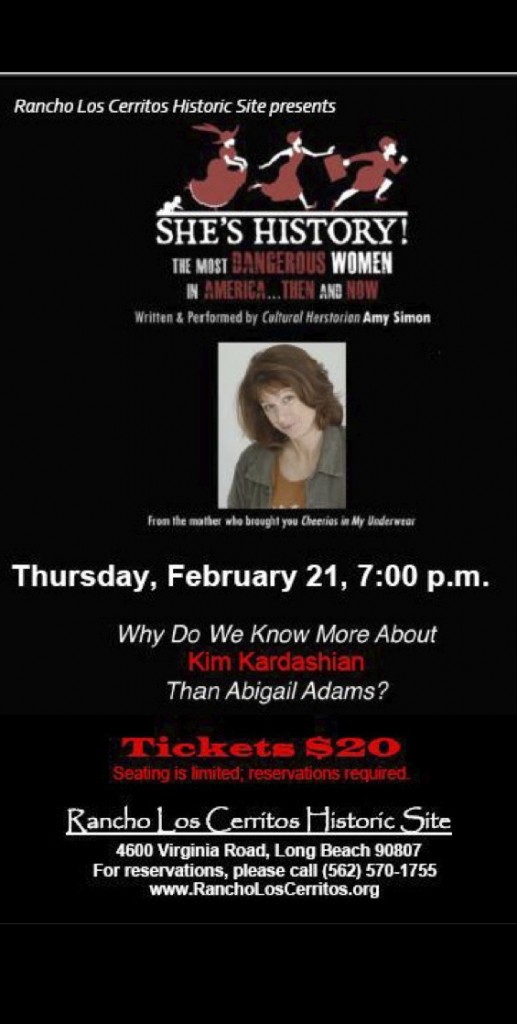 *********************************************************************
THANKSGIVING FUNDRAISER
New York City
SATURDAY NOVEMBER 17th at 7:00PM
The Museum Of Motherhood
401 East 84th Street at 1st Avenue (212.452.9816)
http://www.mommuseum.org/theater/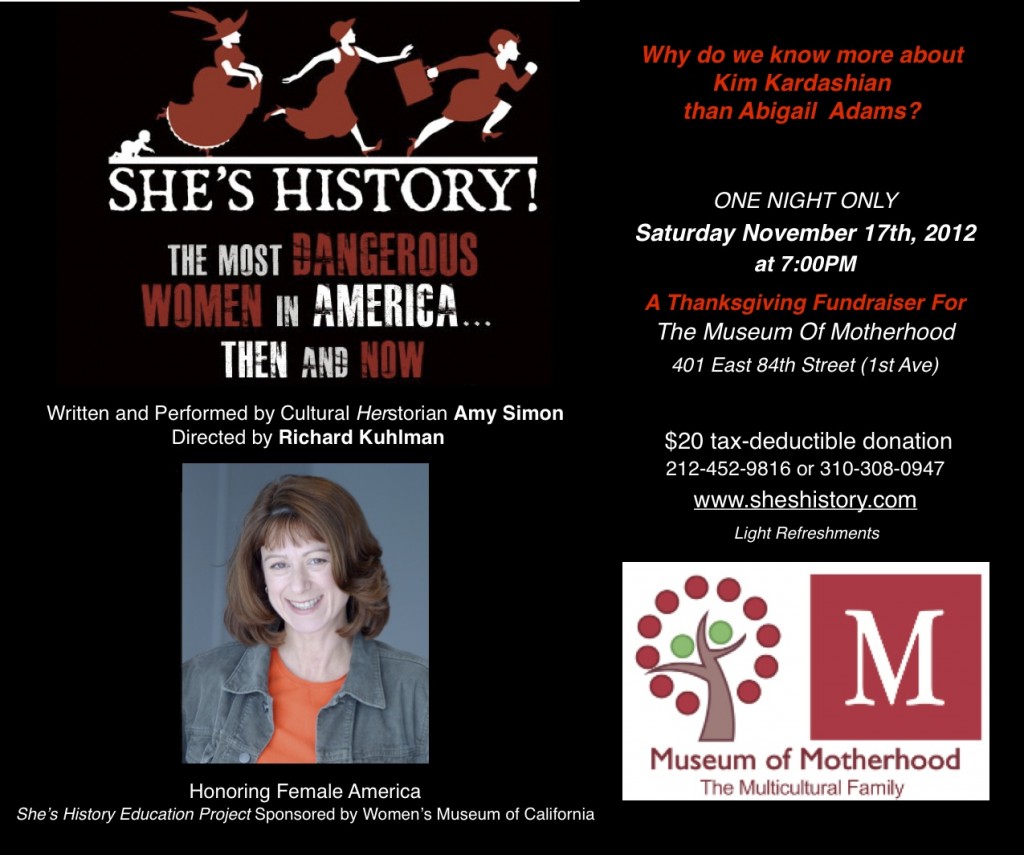 ***********************************
NEW YORK CITY
MONDAY NOVEMBER 19th
5:30-8:30PM
Manhattan Borough President's Office
One Centre Street
Exhibit Runs November 1st-30th
Reception Monday November 19th
Women On The Move Celebrates
The Thirty-fifth Anniversary of
The National
Women's Conference of 1977
Ticket Info Coming Soon
Presented by Jeanette Watson Sanger and
Diana Mara Henry – Bella Abzug's Official Photographer
Featuring Former Commissioners, Delegates and Bella's Former Staffers
Honored Guests Include:  Former Commissioner Rita Elway Brogan
Feminist, Author and Activist Kate Millet
and Amy Simon performing as Bella Abzug
***********************
Texas, November 19th, 1977 The Spirit Of Houston
Trail Blazing, Hat-Wearing, Peace-Making Bella Abzug – who joined Congress at the age of fifty – pulled off another miracle, organizing The National Women's Conference which she got the government to pay for!  A Fabulous Federal First and a major major coup! With a "special emphasis on the representation of low-income women, members of diverse racial, ethnic, and religious groups, and women of all ages," every state was represented with two thousand delegates, along with eighteen-thousand women and supportive men, many husbands, who supported their wives by carrying their little babies so the moms could go to meetings.  Also carried – a torch from Seneca Falls, New York (home of the First Women's Conference in 1848) to Houston, Texas.  It was presented to Lady Bird Johnson, Betty Ford and Rosalyn Carter who said it was"…the most important and exciting conference I have ever attended".  Also on hand, Coretta Scott King, Maya Angelou, Billie Jean King and of course the glorious Gloria Steinem, to name a few. The thirty-fifth Anniversary of this historic event is being celebrated in Manhattan, Monday, November 19th 2012, with yours truly speaking as Bella Abzug.
FROM LEFT TO RIGHT
Lady Bird Johnson, Rosalyn Carter, Betty Ford and Bella Abzug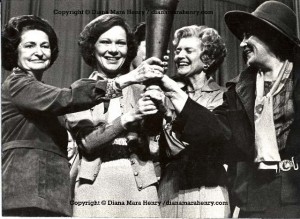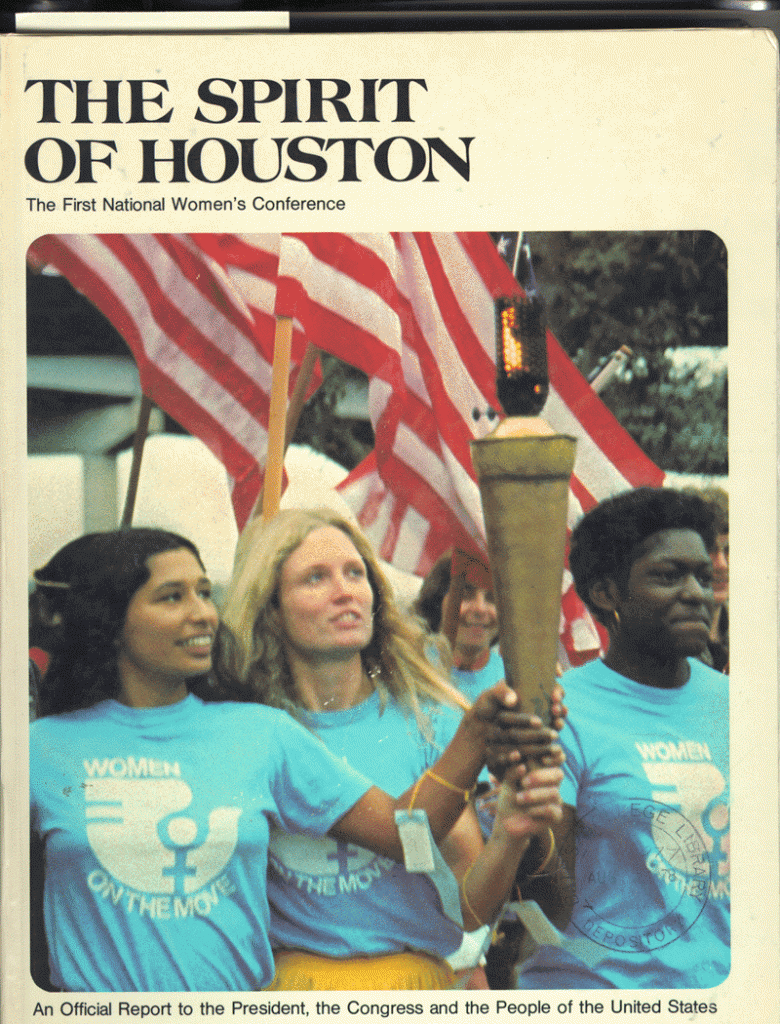 ********************************************************************
PAST EVENTS
SUNDAY, OCTOBER 21st at 7:00PM
SHE'S HISTORY! back at The Lounge Theater in Hollywood
6201 Santa Monica Blvd at El Centro (just East of Vine)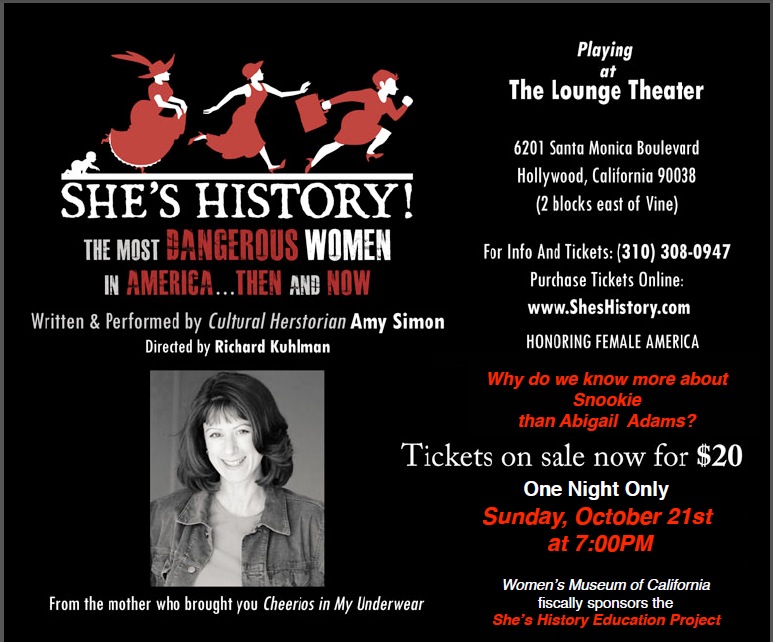 July 11th New York City
Los Angeles – Three Matinees In May
SHE'S HISTORY! back at The Lounge Theater in Hollywood
Sundays at 2:00PM
May 6th, Sunday May 13th – MOTHER'S DAY! and Sunday May 20th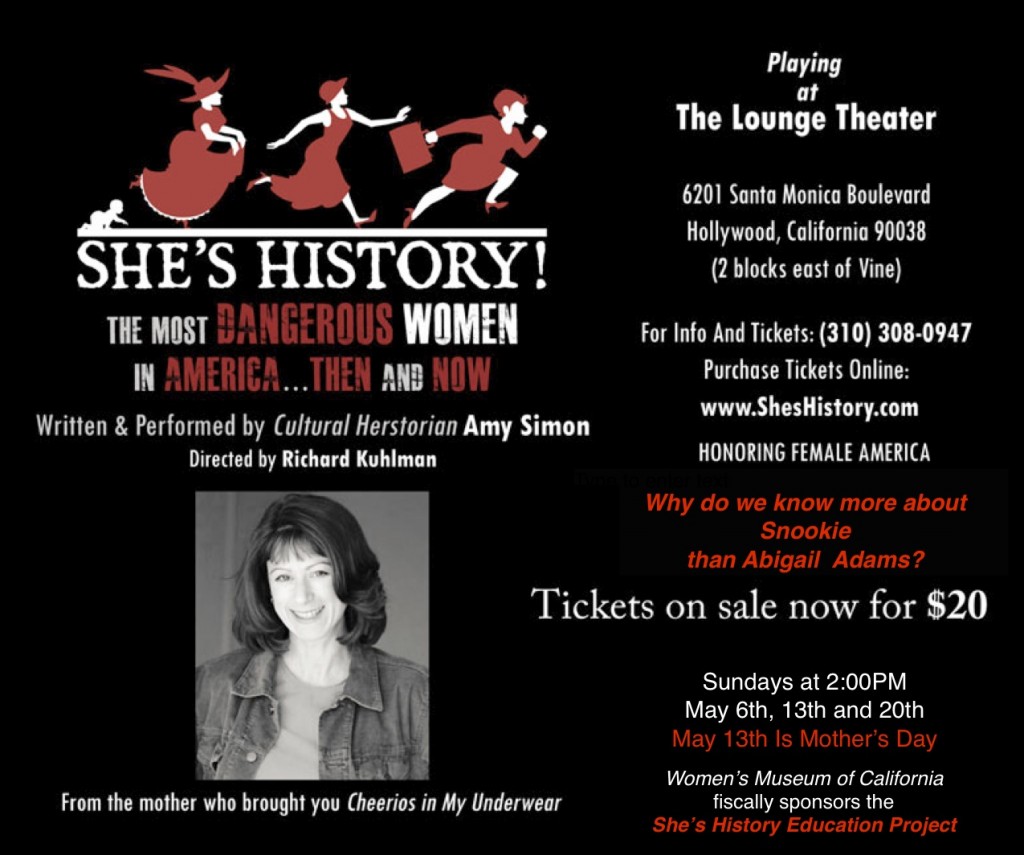 New York City, March 2012
Benefit for Museum Of Motherhood
********************************
San Diego, California
March 2012
Women's Museum Of California Fundraiser
Downtown YWCA Auditorium

******************
Monterey, California
March 15th
U.S. Army Fort Hunter Liggett
Ethnic Observance Women's History Month
***********************************************************************
Burbank, California
Burbank Public Library Young Adult Services
7:00PM Thursday, February 23, 2012
Buena Vista Branch Library
300 N. Buena Vista Street, Burbank, CA 91505
(818) 238-5620
FREE!

******************************************************
Boynton Beach, Florida
Monday February 13th
Banyan Springs Woman's Club
Private Show
************************************