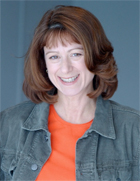 Amy Simon is a playwright, actress, mother, improviser, published writer, producer, and self-proclaimed cultural Herstorian. She has been writing, acting in and producing theater for most of her adult life. Her first play, Cheerios In My Underwear (And Other True Tales Of Motherhood), debuted in Los Angeles in 2003 and holds the record as the longest running solo show in Los Angeles. SHE'S HISTORY! debuted in May 2010 at The Skirball Cultural Center in Los Angeles.
Amy is proud to be a Women's History expert for The Women's Media Center's SheSource.org, an online braintrust of female professionals founded by Jane Fonda, Robin Morgan, and Gloria Steinem.
A native New Yorker, Amy helped start The Intrepid Theatre Company (Go Boldly Forth!), where she got her producing chops working on productions such as Beowulf, where she did publicity, took the tickets, and played the monster Grendel's mother. After ten years in the New York theaters and comedy clubs, including the famed Palace Theater, The Duplex, Folk City and Manhattan Punch Line, doing plays, sketch, and improv comedy, Amy moved west.
Some Los Angeles adventures include: a few television commercials, a cranky lunch lady on Strong Medicine, and creating, co-producing, and directing the all-female comedy troupes GAL-O-RAMA and OVARYACTION at The Improv, The Laugh Factory and The Upfront Comedy Theater in Santa Monica. As the creative force and co-producer behind HEROINE ADDICTS, the four-year hit all-girl variety show, Amy worked with and was inspired by many of the most talented female writer/performers in Los Angeles (including Jane Lynch) at Hollywood's Bang Studio.
Always interested in hearing and presenting what women have to say, and moved by the response she got from Cheerios, Amy created and produced Motherhood Unplugged and Moms Who Write, a mom written and performed essay contest/story/music salon and stage show with LA Parent Magazine and Mamapalooza (Moms In The Arts). It inaugurated Los Angeles's KPFK Radio's Pacifica Performance Showcase, where she also produced and hosted several SHE'S HISTORY! segments. A frequent guest on local and national radio, Amy was a guest commentator for American Woman In Fact And Fiction, a three part series that aired on Pacifica Radio Archives FromTheVault.org series. She is also a weekly guest with her Fabulous Female Facts on the Nicole Sandler Show radioornot.com, and is a guest blogger for the Hollywood Journal and The Political Carnival.
Working as a consultant on the 2008 launch of the Broad Stage Theater in Santa Monica, Amy performed a variety of duties, including stage-managing the thirteen member cast of American Voices: Spirit of the Revolution, an original play based on The Federalist Papers, directed by and starring Dustin Hoffman, a truly wonderful man, whom she assisted. As the cast understudy, she actually got to play Abigail Adams going in for Annette Bening in dress rehearsal! That was fun, as was playing California Pioneer Maude Younger in California Women Win The Vote, the documentary film produced by Wild West Women, Inc.
SHE'S HISTORY! performance highlights include: Bella Abzug for Women On The Move at The Manhattan Borough President's Anniversary Celebration of the historic 1977 Houston Women's Conference (audience members included Bella's pals Gloria Steinem and Elizabeth Holtzman); the Girl Scouts Teen Summit at The Los Angeles Convention Center; a collaborative performance for the New York City Coalition Against Trafficking in Women; a post Hurricane Sandy show for the students at The Henry Street Settlement, New York City; and many benefit performances for the Museum Of Motherhood in New York City as well as for The Women's Museum of California. The Women's Museum is the fiscal sponsor for the SHE'S HISTORY EDUCATION PROJECT.
Amy's work in the classroom, as an educational specialist teaching improvisation and theater games inspired her to create presentations of SHE'S HISTORY! for middle school and high school. She is furthering her mission to turn the world on to all the fabulous females no one knows anything about by working on a book, and she is developing full cast versions of the play which she hopes to publish and license to schools, theaters and organizations. Amy is the mother of two daughters who can tell you all about the first woman to run for President.