MAY 2013 BLOG
Who said "The Most Important Career Decision You Make Is Who You Marry"?
Answer: Sheryl Sandberg, COO of Facebook, (whose estimated worth is over a billion dollars), considered now one of the most powerful women in the world. Her book "Lean In" and foundation LeanIn.org is all about fostering and nurturing and inspiring leadership in girls and women. Her message is all about leaning in to your ambition.
Boys, she says, are socialized to be assertive and aggressive and take leadership. Girls? "We call our little girls bossy," Sandberg says. "Go to a playground: Little girls get called 'bossy' all the time, a word that's almost never used for boys. And that leads directly to the problems women face in the workforce.
Her book is controversial but read it for yourself. I think her message is fabulous!
Check out her website
 ************
I am SO PROUD to be a Women's History Expert for
SheSource
which is part of the Women's Media Center,
SheSource is an online braintrust of female experts on diverse topics designed to serve journalists, producers and bookers who need female guests and sources.
The Women's Media Center http://www.womensmediacenter.com/ makes women visible and powerful in the media. The WMC works with the media to ensure that women's stories are told and women's voices are heard through media advocacy campaigns, media monitoring for sexism, creating original content, training women and girls to participate in media, and promoting media experienced women experts. The WMC directly engages with the media at all levels to ensure that a diverse group of women is present in newsrooms, on air, in print and online, in ?lm, entertainment, and theater, as sources and subjects. 
The Women's Media Center was founded in 2005 as a non-profit progressive women's media organization by Jane Fonda, Robin Morgan, and Gloria Steinem.
******************************
SATURDAY MAY 11th at 6PM – HoopLA
Speaking of female leadership, a fabulous Los Angeles Female, Erika Schickel, just leaned in and has created HoopLA – "a new kind of variety show". If you are in Los Angeles, check it out.
******************************
I am helping inaugurate the first show May 11th 2013 and will be performing some of
SHE'S HISTORY!
This month's theme: MOTHER (it IS Mother's Day Weekend) 
The line-up is pretty cool….
 Sandra Tsing Loh, Weba Garretson, Gayle Brandeis, Amy Simon, Samantha Dunn
Saturday, May 11 @ 6pm
Club Fais Do Do
5253 West Adams Boulevard, Los Angeles 90016
For Info: http://lareviewofbooks.org/hoopla.php
************
A Match Made In Heaven
SHE'S HISTORY! and The Girl Scouts! 
GIRLTOPIA
A Teen Summit at The Los Angeles Convention Center
hosted by Girl Scouts of Greater Los Angeles
A one day awe-inspiring conference for One Thousand Girls in grades 6-12.
SHE'S HISTORY! will be there, bringing to life the many unknown fabulous females
who embody the Girls Scouts mission:
To build girls of courage, confidence, and character, who make the world a better place.
*************
More Los Angeles Leadership News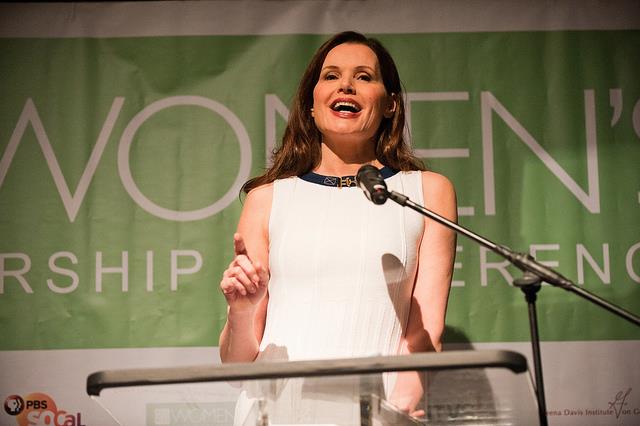 I attended the very cool West Hollywood Women's Leadership Conference 2013. I went with my favorite Women's Documentary Filmmaker – Martha Wheelock, in whose film California Women Win The Vote! (http://wildwestwomen.org/), I played California pioneer Maude Younger (The Millionaire Waitress)
Martha Wheelock and Amy Simon
The conference kicked off with Geena Davis, the Oscar nominated actress who played the President (Commander In Chief) on TV. Motherhood inspired her to Chair the California Commission on the Status of Women. She is also the Founder of the Geena Davis Institute on Gender in Media, and SeeJane.org, whose brilliant message to girls is: If You Can't See It You Can't Be it. The statistics on girls and women being unrepresented – and stereotypically represented in media are staggering. Check it out….
Next was a screening of the Academy Award nominated film "The Invisible War" with producer Amy Ziering and Director Kirby Dick. This is a brilliant film about sexual assault in the military. Women serving in combat zones are more likely to be raped by a comrade than killed by enemy fire. Women are blamed, demoted, fired and punished for reporting their sexual assaults. Military Sexual Trauma (MST) is the new term used by The Department of Veterans Affairs (DVA) to refer to this rape, sexual assault and sexual harassment. Mindblowing. For more info click here:
I attended many panels including "50/50: Leadership, Representation and Equality." Moderated by former state legislator Sheila Kuehl – a most FABULOUS Trail-Blazing Modern Day Pioneer. We in the audience were inspired and motivated – and urged to run for office – by all the panelists, including Elana Pianko, Chair of the LA Council for the National Women's History Museum. A short film was shown with little girls playing the roles of many many unknown fabulous females in history – who are IN SHE'S HISTORY!
I am looking forward to collaborating with Elana Pianko, who told her story of being inspired to Lean In by Sheryl Sandberg's book. Mentoring was a topic discussed and emphasis was on encouraging WOMEN TO RUN FOR OFFICE. I learned there is a difference between a woman candidate, and a woman's candidate…..
The always articulate and brilliantly informed women's rights kick-ass activist/lawyer Sandra Fluke also inspired the crowds. She was the Georgetown law student, who Rush Limbaugh called a slut and a prostitute when she tried to address members of Congress about contraception and employer health plans (radio host Rush Limbaugh called her a "slut" ).
Her message: YES YOU CAN – and ask for help from your community. This DON'T GO IT ALONE message was a theme of this leadership conference.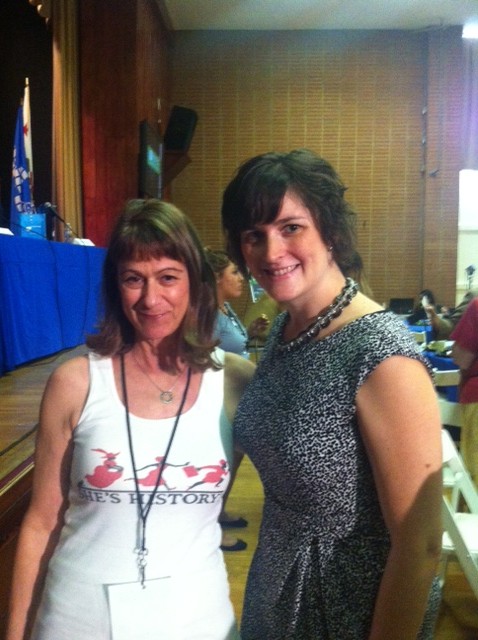 Amy Simon and Sandra Fluke
********************
VERY SAD NEWS FOR THE WOMEN'S MOVEMENT
Mary Thom, a chronicler of the feminist movement and former executive editor of Ms. magazine, died in a motorcycle accident. She was 68 and lived in Manhattan.
Mary Thom
I did not know Ms. Thom, but she was another Fabulous Female, another unknown unheralded heroine who inspired and trail blazed and SHE'S HISTORY! acknowledges her contribution to the Women's Movement. 
Read about her, please…
http://www.nytimes.com/2013/04/29/business/media/mary-thom-a-chronicler-of-thefeminist-movement-dies-at-68.html?_r=0
http://msmagazine.com/blog/2013/05/01/public-memorial-for-mary-thom-and-a-newaward-in-her-name/
**************
Fabulous Female Facts Every Wednesday at RADIOORNOT.COM
Another Fabulous Female, Nicole Sandler hosts her own show. Check her out