Who Said: "I think…that the young women of today do not and can never know at what price their right to free speech and to speak at all in public has been earned".
It was Lucy Stone in 1893. And still sadly true today when we know all about Kim Kardashian and nothing about Lucy Stone. We celebrate Woman's Equality Day on August 26th, honoring the momentous event ninety-three years ago, when women got suffrage – the right to vote in – 1920, with the passage of the Nineteenth Amendment. Ahhh. Lucy Stone was the first American gal to get arrested for civil disobedience – she would not pay her property taxes because she could not vote. You had to be a white male property owner to vote.
Lucy Stone (read more)
Fabulous Female Fact: Lucy Stone
Voting is the most powerful way to affect change. (Unless you agree with Emma Goldman, who said; "If voting changed anything, they'd make it illegal." ) And as we look back ninety three years ago, could we have imagined such a powerful change as a black president? How many of us know how hard the gals fought to free the slaves – were INSTRUMENTAL in getting the Thirteenth Amendment passed? Elizabeth Cady Stanton and her crew over at The Loyal League (http://www.britannica.com/EBchecked/ topic/647185/Womens-National-Loyal-League) got 400,000 signatures on a petition abolishing slavery! (Imagine what these suffragists could do with Facebook andTwitter?) But the gals were not free to vote. "Votes for all or votes for none! Universal Suffrage!" said Elizabeth Cady Stanton and Susan B. Anthony when they were asked after the Civil War, to fight again. This time for the freed slaves' right to vote. "Black male suffrage is paramount. Tis the hour of the Negro" they were told, which pissed off some of 'em so much that it split the movement, setting back the gals efforts for their own right to vote another fifty years.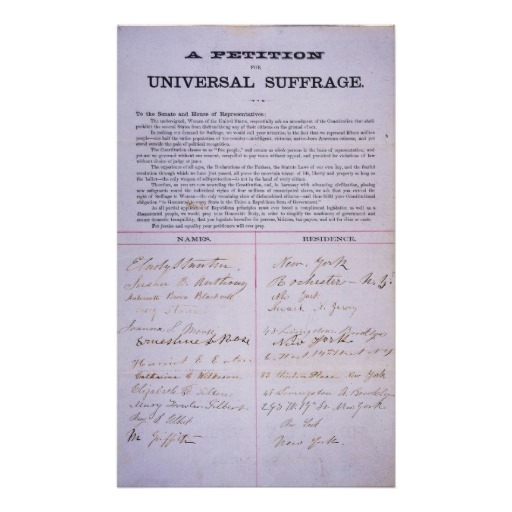 There were very FEW gals in positions of power in 1920. In 1917 Montana's Jeannette Rankin became the first woman elected to the House of Representatives (they had to build a Ladies Room for her).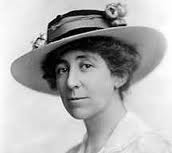 Jeannette Rankin
http://sheshistory.com/site/category/fabulous-female-facts/page/4/
And Pioneering Attorney Belva Lockwood ran for President – TWICE – in 1884 and 1888. Back in 1872 the scandalous, history-making, glorious, Victoria Woodhull (AKA Mrs. Satan), became the FIRST woman to run for President (and spent election day in jail for what she published in her newspaper).
http://sheshistory.com/site/category/fabulous-female-facts/page/5/
Speakin' of gals who run for President, who woulda thought back in 1920 that a woman who MIGHT be running for President, is so apparently powerful, an entire political party VOTED to ban CNN and NBC from airing their Presidential debates. CNN's planned documentary and NBC's planned film about the life of Hillary Clinton is the cause of the brouhaha. Wow! Here we are in 2013 and the power is on as we inch our way toward equality with ninety-eight women (out of five hundred thirty-five) in Congress. This would thrill Jeanette Rankin and the amazing activist/suffragist (and author of The Equal Rights Amendment) Alice Paul. In 1917, Alice Paul and a bunch of her gal pals were thrown (literally) into jail for peacefully picketing the White House for the right to vote. These gals went through HELL sacrificing and suffering, enduring physical abuse and hunger strikes, ALL SO WE CAN VOTE!
And thanks to the late great New York Congresswoman Bella Abzug, every year since 1971, The President of The United States issues a proclamation commemorating August 26th as Women's Equality Day!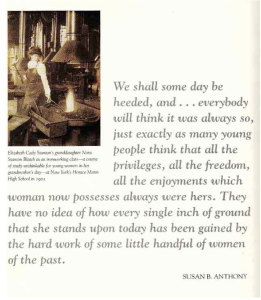 **************
SHE'S HISTORY! plays The Lounge Theater in Los Angeles on Sunday October 13th at 2PM.