March 1st – Immaculate Heart High School
If someone were outside the All Girl Immaculate Heart High School gymnasium -which doubles as an auditorium – and heard the cheers – one would assume there was a game going on.  But no.  The girls were cheering at Mary Wollstonecraft, and Sojourner Truth and Frederick Douglass.
It was March 1st, 2012, the first day of Women's History Month and I was performing SHE'S HISTORY! The Most Dangerous Women in America, Then And Now… for five hundred and forty fabulous future feminists.
This was my first high school performance and what a way to start Women's History Month!  The girls were rapt!  Rapt I tell you.  They CHEERED at our first feminist writer Mary Wollstonecraft – who wrote our first feminist book – A Vindication Of The Rights Of Woman – or as I like to call it Don't Punish Me For Having Ovaries!  They loved it when I called Bella Abzug, "a great GREAT Pain In The Ass"!  They screamed with recognition at Sojourner Truth.  And they went a bit crazy when Frederick Douglass came to the SHE'S HISTORY! party.
What a joy and a surprise to get this reaction from high school students. The day before I was working on some promotional materials in my Apple Class.  My tag line is "Why do we know more about Snookie than Abigail Adams?  My trainer – a nice 30ish year old man asked, "who is Abigail Adams"? My heart sank.  The night before I was at Staples printing a photo of me and Gloria Steinem who I got to meet for the second time, and asked the lovely young woman helping me, "Do you know who this is?"  When she said no I said "its Gloria Steinem"!  She had no idea who she was.
Immaculate Heart, private girls Catholic High School in Los Angeles, has a reputation as a rebel school.  No wonder those girls related to SHE'S HISTORY! Afterwards, several of the girls came up to me to tell me how much they enjoyed the show.  One lovely young woman gushed compliments, passionate about her desire to get "more people involved in feminism".  I almost started crying.  Their very cool teacher Claire told me the school has a fabulous theater department (yay!) and the seniors were all taking AP History (a college prep course) and that is why so many were familiar with the women and story lines in the show. I profile, show slides, tell stories about, humanize and bring to life around 40 fabulous females – each one a rebel and each one deserving of their own show.  I am working on Victoria Woodhull's – the first woman to run for President in 1872.  I didn't get to perform her story for the rebels at Immaculate Heart, as I had to cut the show down to fit into their 50-minute schedule.  What a fabulous fifty minutes it was!  As Elizabeth Cady Stanton said to Susan B. Anthony – in a scene from the play –  "I am FIRED ANEW!!!"
Sunday, March 4th SHE'S HISTORY! Show at The Lounge Theater in Hollywood
I keep a comment book at my performances and ask people to write in it after they see the show.  Here are some of the comments from that performance:
I really enjoyed the show.  Thank you for bringing the voices of the women whose shoulders we stand on. Carol W.
Thank you for an enlightening evening. Kelly G. 6th Grade Teacher (who later contacted me about bringing the show in to her school but is, sadly, challenged by funding.  This is where the SHE'S HISTORY EDUCATION PROJECT comes in.)
You were awesome.  I am now really interested in Women's History.  Emma, age 13
Wednesday March 7th
Drive down from Los Angeles to San Diego for an interview I was lucky to get with the local Fox affiliate XETV-Channel 6, promoting the upcoming San Diego Fundraiser shows for The Women's Museum of California. It is very exciting. Make all the necessary childcare arrangements, which is always challenging for single working parents, especially during the school week.  And of course, my daughter Ruby's 15th birthday is the next day.  Of course.  Luckily, her father is in town visiting/working from London where he lives.  She will be able to stay with him in his hotel.
March is crazy.  I made my own history somehow giving birth to both my girls in March.  (My oldest daughter Rose will celebrate her nineteenth birthday on March 22nd). And when their father (my ex-husband) comes to town, it gets really complicated and hard on Ruby who feels such conflict – wanting to spend time with her dad (who left in 2009,) while trying to maintain her regular hectic ninth grade schedule of soccer, honors classes, and that all important social life.
Thursday March 8th My Baby Is Fifteen!
6:45AM
It is Ruby's birthday and I have a short window of opportunity to wish her a happy one before she goes to school. I am staying at my friend Patty's house so I whisper my good wishes into the phone feeling terribly guilty. I arrive at the TV studio at 8:30 for the live, five to six minute segment.  This is my first television interview with SHE'S HISTORY! I am in the Green Room chatting with the other guests. When I tell people what I do: "I write and perform about women who make and made history", I get the same "Ohhhhh.  Wow.  Really.  Huh.  That's cool" response.  And then conversations ensue about fabulous females stemming from my asking; "do you know who the first woman was who ran for president?" Everyone is always so interested.
A very young, very blonde, very nice, VERY skinny woman in tight pants and high heels is interviewing me.  We have our little pre-interview.  I was asked to send them a load of info – talking points and photos and such.  She is confident and warm and very interested in the topic.  I just want to feed her. This is my first collaboration with The Women's Museum Of California, my fiscal sponsor who is based in San Diego.  The two shows I am doing are fundraisers for the museum.  I have been working with the director Ashley Gardner for months now so this whole thing is kinda like our first date.
Doing this interview is actually a terrific opportunity to reach a large audience and I am nervous and excited and of course worried about my hair.  And struck with the irony that it is FOX TV.
So.  We do the interview and it is thrilling to talk about my gals and how they overcame obstacles and fought injustice and they are showing pictures  – look – Victoria Woodhull is on television!  And Elizabeth Cady Stanton! I am telling their stories, and my stories about how my daughters did not seem to realize the significance of Nancy Pelosi's herstoric acceptance speech as first female Speaker of the House. The five minutes flew by and afterwards some of the television staff stops me to tell me how much they enjoyed the segment. Almost every conversation ends with my favorite comment.  The one I hear ALL THE TIME.  The one that motivates me to keep going when I look at my checkbook:
It is so important what you are doing.
It's over.  I change back into my comfy clothes; stop at Starbucks and head back up to Los Angeles. My now fifteen-year-old Ruby is spending her birthday night with her dad who takes her and a few friends and one of the parents out to a fancy dinner.  How nice for Ruby.  He has also planned a big party for her in a hotel on the weekend.  I could not afford anything like that.  I have no idea how he can, as he lives in another country, purposefully, making it legally and financially impossible for me to hold him accountable.  When you are divorced with children you are legally (and morally) required to financially disclose your income and expenses – which he refuses to do. Don't get me started on our family legal system.  All I know is when I asked him to buy our daughter a pair of running shoes, he wouldn't.  I have been dealing with this with him for years, and yet I am grateful. It is precisely this disgraceful, dysfunctional, pathetically easy to manipulate system, that allows mothers to be screwed, that has led me to the work I am doing with SHE'S HISTORY! I got screwed, I got mad, I got busy.  If you are interested in learning more about this, read the frighteningly enlightening  Mothers On Trial by Dr. Phyllis Chesler – a fabulous female who came to one of my New York shows.
Friday March 9th
We celebrate my Ruby's birthday at home with a few friends and a lovely home cooked dinner that she requested.
Sunday March 11th SHE'S HISTORY! Show at The Lounge Theater in Hollywood
From my comments book:
Very enthralling and energetic! A wonderful way to learn about important, historical women. Kristen & Birgit (a mother and daughter that I spoke with afterwards  in the lobby.  The daughter was home from college for Spring Break and they were having a mother daughter day.  I was so honored!
Brilliant Show.  We loved it. June and Renee
Terrific Show!  Thank you. Bill B
Thank you for the enlightening show.  Better than 20 years of school… Jenny
Wednesday March 14th Fort Ligget/Hunter Army Base
Drive the 250 miles up the coast to Fort Ligget Army Base to do the show. Arranged for Ruby to stay with our family friends – The Hessells, who live around the corner.  It takes a village and they are part of my village. Finding childcare is always tough during the school week.  Her father could not "take her" as he "had to work".
Fort Liggett/Hunter is far away in the middle of nowhere near Monterey and San Simeon (where Hearst Castle is) on the central coast of California.   The Army is putting me up in Hacienda House, William Hearst's vacation house, which he sold to the government. I know all about him and his property and have read about his life – particularly because of Julia Morgan, a fabulous female who was the pioneering architect who designed Hearst Castle and about 700 other buildings. I LOVE this area of California – the central coast.  But am nervous a bit about spending the night on an Army base.  I asked if I could walk around in the evening, and was told there are critters and a local mountain lion!
It is a lovely drive and I took Bruce Springsteen along with me.  The new cd was just released and he kept me great company!  After a bunch of freeways and a long dusty desolate dirt road I arrive at the base.  This is my second time on an Army Base.  This base is absolutely gorgeous, and the property is also open to the general public.  I go through the checkpoints, show my ID and find my way to lovely Hacienda House. I meet the gal who hired me – Sandy – who introduces me to Suzanne, who is in charge of food and accommodations.   I am thrilled when they show me my room, which is a lovely old-fashioned cottage style room, designed by Julia Morgan herself!
The women help me lug my suitcases and we proceed to the room I am performing in and I set everything up for the tech run through.  The walls are lined with photographs of fabulous females.  I feel so at home. I am there to celebrate and honor Women's History Month under the Special Observances and MWR Umbrella (and budget). MWR stands for Morale, Welfare, Recreation. Suzanne asks me what I would like for dinner.  I am thinking I would like to move in!  After the tech, I get to relax and enjoy the beautiful surroundings.  Suzanne brings me a beautiful meal AND a bottle of chardonnay.  It is wine country.  I spend the evening relaxing INSIDE – and texting photos to my peeps.
Thursday March 15th Show Day!
I had breakfast with a few lovely older women I met in the dining hall.  They were staying at Hacienda House, on a holiday on their way to Hearst Castle down the road.   They all met in a divorce support group many years ago.  When they learned I was the "speaker" that day and what I do, we proceeded to chat about all the fabulous females and how my divorce really inspired the show. One took my card, promising to try and get the show into her daughter's school in Texas.  "It is so important what you do", she says.
The show was at 11AM and once again I was honored to perform for the troops.  Afterwards, a woman came up to me with a book in her hand.  Her book that she had written; "Belva Speaks", about Belva Lockwood, the second woman to run for president and the first woman in America to practice in front of the Supreme Court.  I was blown away to meet this fabulous female and author, Susan M. Raycraft – who loved the show.  She lives a few miles away from the base in Lockwood.  Yes the town she lives in is named after BELVA LOCKWOOD!
I was really happy to see MEN from the military in the audience.
Here are some comments from that performance:
Your presentation was fabulous! I have been to many of these Women's History Observation events and I must admit, yours is the best!  Thanks so much! Colonel Manaois – 1st Filipina Graduate of West Point 1986 (a woman)
Fantastic! Great articulation, great emotion – Fun involvement, and a great choice for MWR (Moral, Welfare, Recreation) to obtain your ability. Dee Dee L.
I loved your knowledge, enthusiasm and energy! How could someone not be motivated to think more about what it means to be a woman & all it entails.  Thank you for a wonderful presentation! Paula G.
A few men made a point to tell me how surprised they were by how much they enjoyed the show. Ahhhhh.  I packed up; hit the road by 2:15PM with a front seat filled with Suzanne's yummy goodies (the show was also a brunch) which included quiche, muffins, and fruit.   Hit the Los Angeles traffic around 5PM and made it home by 7:30.
Sunday March 18th SHE'S HISTORY! Show at The Lounge Theater in Hollywood
Here are some comments from that performance:
Thanks for putting into three lively dimensions the women who I can only pay tribute to in my Facebook History posts! David Dismore – Ms. Magazine
(David has a great Women's History Facebook Page – check it out)
http://www.facebook.com/Equalitarian
I am so moved and inspired by your words today (and your energy).  Thank you so much for your incredible work regarding women! Gratefully, Judy W.
Terrific show!  I've long been interested in women's history even though I'm male.  Wish it could've gone on twice as long with more of your wonderful stories! Kim Fugal
Tuesday March 20th
Phone Interview With Maureen Cavanaugh of KPBS in support of the Woman's Museum of California Fundraisers San Diego.  Sorry no link.
Wednesday March 21st
Interview for Radio Or Not with Nicole Sandler (radioornot.com)
Link Coming…..
Thursday, March 22nd My Rose's Birthday!
I can't believe my oldest is nineteen!  She is away at college but really liked my gifts – a purse and a maxi-dress.
Friday, March 23rd
I drive down to San Diego for the tech rehearsal for the Saturday and Sunday shows.  (It's never a good idea to travel on show days.) After the long ride down from Los Angeles, I was rewarded. The museum is awesome!  Fabulous females – dead and alive, surround me!  The very much alive museum director Ashley Gardner greeted me and we hugged.  I am so impressed with the fabulous women's history space she has nurtured.  Everything looked and felt familiar to me.
We traveled together the mile or so for the tech rehearsal to the downtown YWCA where the shows were being held. It is in a gritty part of town and also functions as a safe haven and resource center for abused women and families in crisis. The building is also an historic landmark and so appropriate for the show. We lugged my suitcases in and are joined by two other fabulous females – Carolyn who is on the Board and Kit, a theater maven and an old friend of mine and a new friend of  Ashley.  We all worked together, chatting and bonding and filling the space with loads of fabulous female energy.
Saturday and Sunday March 24th and 25th San Diego Women's Museum of California Shows
Both were great, successful and as usual thrilling for me to perform.  San Diego is a big military and college town and both sectors were represented at the show.
Here are some of the comments from those performances:
I loved it.  As a man, we should all see this show. Damion S.
This was a fantastic performance.  You must pursue your show throughout the country.  The young women of today MUST hear what you say. Good luck!
Thank you! Thank you! Thank you! Great script  – Fantastic Performance.  Looking forward to your next production! Thanks for bringing this to us here in San Diego. Marti K.
Great Show! You should do a performance at SDSU (San Diego State University).  (I got my minor in Women's Studies there – one of the 1st Women's Studies programs in the country!) Thanks for a great show! Jerrilyn H.
I do all my own producing and promotion – only because I cannot afford a publicist or producer – yet….) and I literally emailed every history and women's studies professor at SDSC -San Diego State University, and UCSD – University of Southern California at San Diego.  I did not get a single response.
After the second show on Sunday afternoon, I was exhilarated and exhausted.  There is a great deal of physical energy expounded when I do the show.  I travel with a few suitcases, one with the equipment – laptop, projector, speakers, cables, and one with the props and costumes, and then there is my personal stuff.  I am grateful I am healthy and energetic enough to do it but I was wiped out.  And there was a big storm coming.  BIG STORM.  I was hoping to hit the road before it hit me choosing to weather the weather rather than find another night of care for my Ruby.  But the storm and I hit the road together.  It was the scariest drive.  Pelting rain and freeway driving – wow.  I prayed and breathed and went real slow and I made it home.
Wednesday March 28th
Up at 4AM for a 7AM flight to New York City for the Hunter College Women's Rights Coalition show and the fundraiser for The Museum of Motherhood.   I ship my costumes in props ahead in a suitcase but carry on my equipment and personal stuff.  Lotsa airport schlepping, but my cousin Julie picked me up at JFK airport – a very rare treat in NYC and we drove to Brooklyn and had fabulous wine and sushi!
I stay with a family friend when in Manhattan (my home town btw).  Muncie is a fabulous female in her 80s, a graphic artist, who introduced my parents to each other.  So she is to blame for a lot. She has a two bedroom apartment that I visited as a child.  I grew up with her two daughters who are  women now, and  – like me – they are in arts and education.  Randi is a visual and performing artist in Florida and Jory is a third grade teacher – in Los Angeles.  She teaches in the same school district my girls attend and her daughter and my daughter Rose both worked on the same school play two years ago! Small funny world.  I had just seen her daughter Randi for the first time in over thirty years!  I performed the show in February for the Women's Club at my father's retirement community in Boynton Beach and Randi drove down from Fort Lauderdale to see it.  Muncie  prepared a beautiful meal for me and we dined and hung out and it was terrific.
Thursday March 29th
Jumped through several hoops to schlep all my stuff uptown to the Hunter College East 68th Street Campus for the tech rehearsal.  I need a roadie…..
Friday March 30th
The show was at 7PM so I rested all day.  So tempted to take advantage of the city but I have learned I need to be very chill on show days – especially when there is jet lag, different time zones and two shows in a row.  So I rested.   It was such an honor to perform the show (in which Bella Abzug has a nice big part), in Bella Abzug's alma mater.  What an experience!  After the show I enjoyed an utterly fabulous New York City truly authentic Italian meal.  Ahhhh.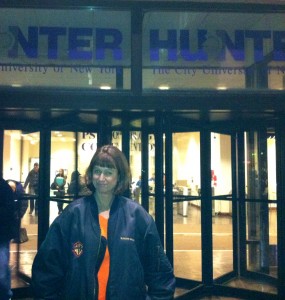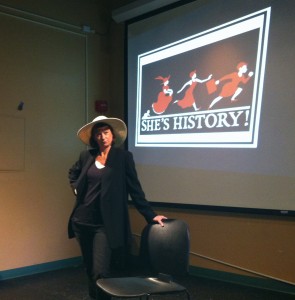 Saturday March 31  LAST SHOW
I took a taxi to The Museum of Motherhood on East 84th Street.  Created by Joy Rose (visionary, Ubermama and founder also of Mamapalooza) this space is my absolute favorite.  This was my second fundraiser at the museum, which is filled with all of Joy Rose's amazing, empowering, maternal energy. She has single-handedly imagined and brought to life this museum, which she has kept alive through sheer will. The recipient of many honors, including The Susan B. Anthony Award, she is a trail-blazing pioneering super duper rocking and rolling (she also created her band Housewives On Prozak) fabulous female who – since becoming the mother of three – has devoted her life to honoring motherhood.  I performed my last show of the month at 7PM to a small but appreciative audience, which included my brother and sister and cousin.  And, Lenore DeKoven, another amazing and fabulous female.  A pioneer who was my acting teacher back in the Nineteen-Eighties in New York City, she broke barriers as the first female television director. Lenore DeKoven has produced and directed on both coasts in theatre, film and TV and has been on the film and theatre faculties of UCLA, NYU and Columbia University. She has had two books published: Changing Direction: A Practical Approach to Directing Actors in Film and Theatre, and Twilight Man.  She is also the Artistic Director of Our Workshop East. After directing me as an actress for many years, Lenore has been mentoring me ever since I became a playwright.
Afterwards, there was wine and cheese and much intellectually and emotionally stimulating conversation about the work Joy and I are doing and the work that needs to be done.  I was elated, exhausted, relieved and oh so happy! And what a treat for me to be with my family, who helped me pack up, loaded my stuff in the car and we drove downtown where we celebrated and reminisced and ATE and DRANK.  I was particularly thrilled to have my little brother (he is forty-eight) see the show.  He is a quintessential New Yorker, a guys guy if ever there was one and into cars and sports and rock and roll. "Yo, sis, dat was good.  I learned a LOTTA stuff I dint know."
March Mission accomplished!