Contact Amy:
amysimon@sheshistory.com
(310) 308-0947
---
A review from the the Pasadena City College Show
September 30, 2010 Pasadena News
She's History!
Now Playing @ the Lounge Theater in Hollywood
Last Sunday, I went to see the solo woman play, She's History: The Most Dangerous Women in History, Then & Now, at Hollywood's Lounge Theater. I was lucky enough to receive a ticket and I brought my mom and was joined by a friend. I didn't know what to expect from a one woman show performed by "Cultural Historian" Amy Simon. I had seen Amy in a play last January, Expressing Motherhood, which I loved, and I was curious about a performance that asks, "What do bloomers and play dates,  Legos and legislation, homework and housework, have in common?"
She's History is a live, action packed history lesson. Did you know that Hilary wasn't the first female to run for president in the US?  That title goes to Victoria Woodhull back in 1872! Amy Simon goes on to describe dozens of uncelebrated and relatively unknown American women leaders in the past 200 years. Amy scoured historical documents, diaries, and went right to the sources for her facts and brilliantly creates a solo performance that is both entertaining and educational.
Written and performed by Amy Simon, She's History just opened last Sunday, and shows continue over the next two weeks. Get a Mom's Night Out group together and go see this funny, eye-opening, and pedagogical play about pioneers in our history books. Amy hopes to bring the play to schools, which would be a fantastic and enlightening way to bring history alive to students.
WHAT: She's History: The Most Dangerous Women in America Then and Now
WHEN: Shows on Tuesdays and Sundays through October 12th
WHERE: The Lounge Theater 6201 Santa Monica Blvd., Hollywood
WHY: Have fun while learning about women leaders
MORE INFO: http://sheshistory.com/
---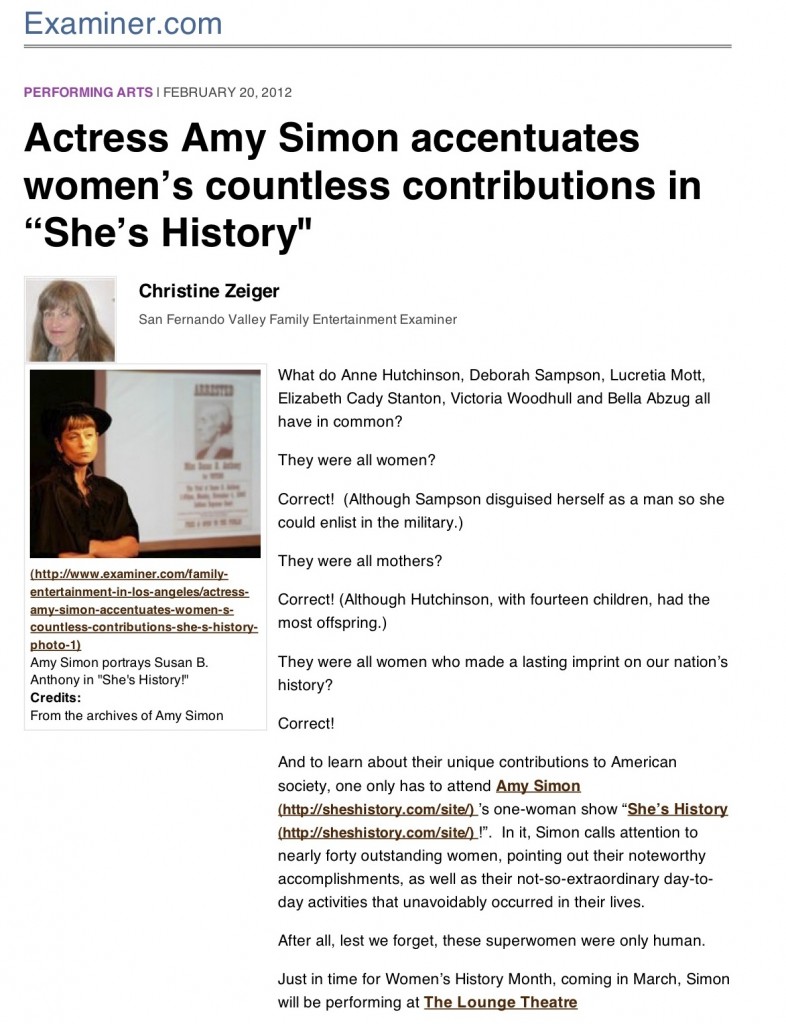 ---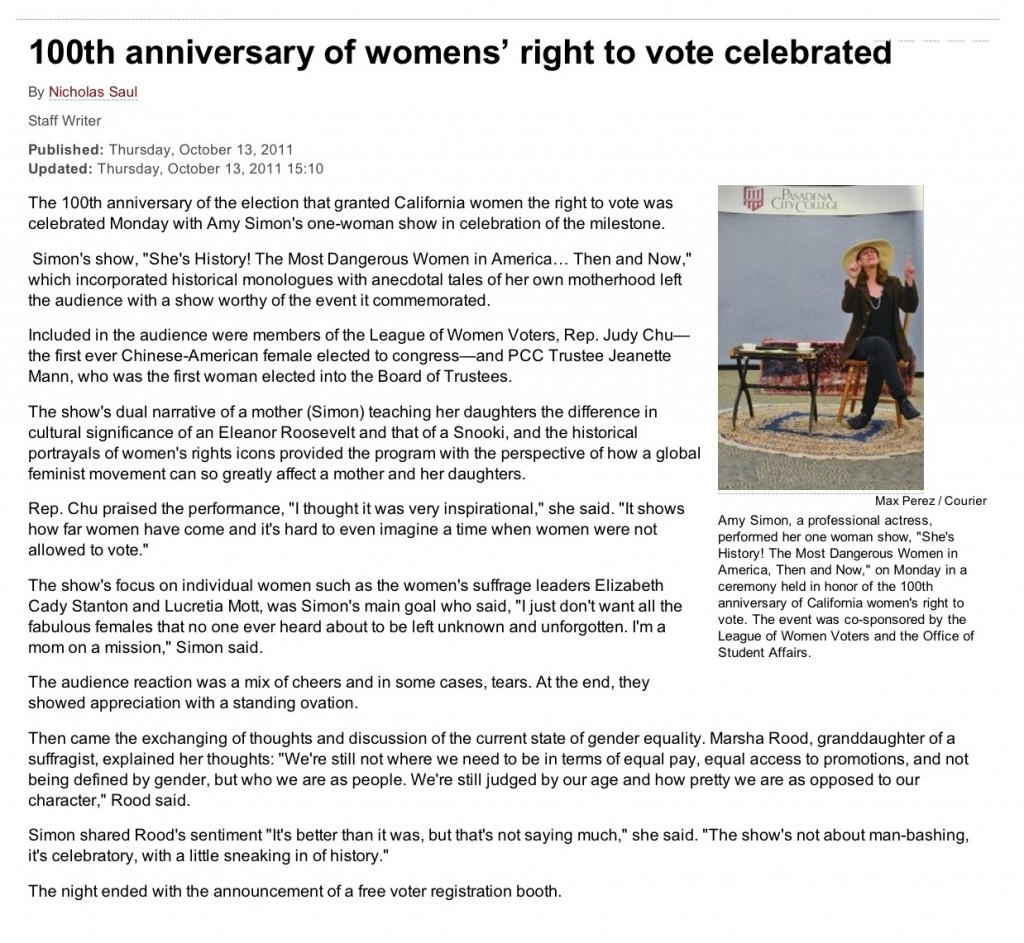 ---
October 7, 2010  Theater in L.A: New Solo Shows  www.laist.com
It would be hard to imagine another performer playing the role of self-proclaimed "Mom on a Mission" Amy Simon (though, hey, who knows) in the breezy, educational one-woman show, She's History, which Simon developed after her daughter wanted to write a Women's History Month paper about Cher.
Over the course of 90 minutes in Hollywood's Lounge Theatre, Simon introduces us to a cavalcade of seminal figures in women's history, including Susan B. Anthony, Elizabeth Cady Stanton, Lucretia Mott, Victoria Woodhull, Sojourner Truth, Bella Abzug, Shirley Chisholm, and Nancy Pelosi, among many others. And, really, unless you're a full-fledged student of the topic, you probably don't know more than a small fraction of the story that She's History presents in its loosely structured way.
Sometimes Simon reenacts a historical scene featuring one or two of the figures she's introduced, and sometimes she simply tells the audience about them, what they accomplished, and why they're important (with accompanying illustrative slides and videos). Sometimes she acts out scenes from her own recent life to highlight the continuing relevance of the history she's presenting, and sometimes she brings up the house lights and chats with the audience directly. It's all very engaging and informative, if never exactly dramatic.
Except when we were leaving the theater after it was all over and a woman from the front row approached us in the lobby to point out that we were the only male presence in the whole audience that evening andemphatically declaimed: "Interesting!"