MARCH 2015 Equal Pay, Hollywood-won't and Herstoricals….
Hello She's History! friends, fans and women's history lovers!
It's WOMEN'S HISTORY MONTH, and as usual I have been quite busy in my never ending quest to turn peeps on to ALL the FABULOUS FEMALES we don't know enough about!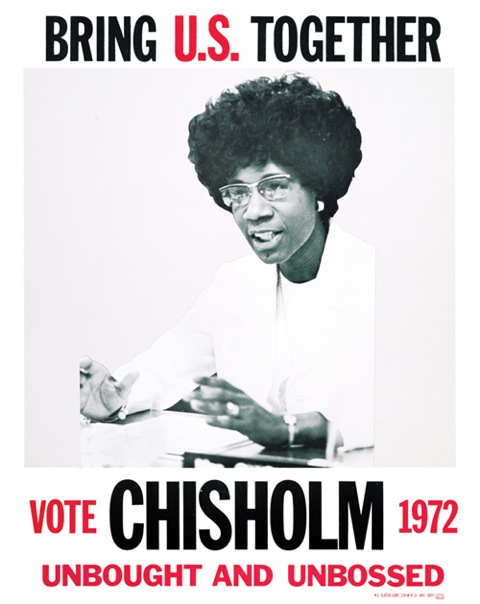 Speaking of fabulous, back in February, Boyhood actress Patricia Arquette won an Oscar and many hearts when she accepted her Best Supporting Actress award. But she did not accept the economic status of women, saying, "We have fought about everyone else's rights. It's about time we fought for our own; it's about time we have equal pay and equal rights for women in the United States of America." But she actually opened a can of worms initiating a heated and often times nasty discussion on intersectionality (or intersectionalism) which according to Wikipedia, is "the study of intersections between forms or systems of oppression, domination or discrimination".
I had not heard of this term before (and I imagine Patricia Arquette had not either), but now many of us do, and that is a good thing. Let's ALL learn. Women's history is full oppression, domination and discrimination. When I heard Ms. Arquette make that statement, I immediately thought about the economic status of women, so let's go there. Today women still earn only 77 cents to the man's dollar; black women earn 64 cents, and Latina women earn 55 cents! Maria Shriver's 2013 meticulously researched book on the status of some in our country, THE SHRIVER REPORT: A Woman's Nation Pushed Back From The Brink, says it all, and it's all pretty bad.
Now let's get back to Patricia Arquette and Hollywon't… Last year when Cate Blanchett won her award as Best Actress for her work in Blue Jasmine, she said in her speech, "Those of us in the industry who are still foolishly clinging to the idea that female films with women at the center are niche experiences. They're not! Audiences want to see them, and in fact, they earn money. The world is round, people!" Yes, people want to see women-centered films, but they are NOT being made. Gender inequality in film is and has been pervasive, prevalent, well documented and pathetic. Only 4.6% of Hollywood's movies had female directors last year! The Geena Davis Institute on Gender in Media has been tracking this stuff for years.
But it's Women's History Month – again! Here is how I am making history. I'll be performing excerpts from SHE'S HISTORY! on Friday March 27th, in Beverly Hills at the headquarters of Ms. Magazine and the Feminist Majority Foundation. The National Women's History Project is hosting a FREE evening celebrating women's history. The esteemed Elaine Partnow – actress, author, screenwriter, quotologist, editor, instructor and all around Fab Female – will also be performing. I am such a fan of hers!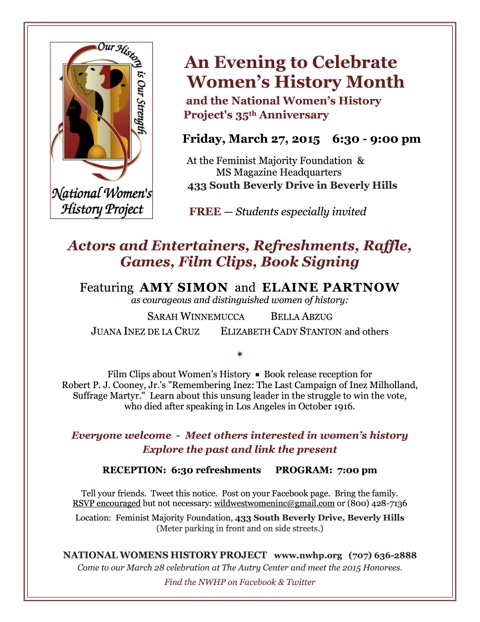 I'm continuing my work developing SHE'S HISTORY! with a full cast at Theatre West here in Los Angeles. And I have a wonderful female director, Arden Teresa Lewis, who has just cast ten wonderful actresses to workshop the show. Will keep you posted.
In the meantime, inspired by the challenge of getting SHE'S HISTORY! into the schools, I dreamed up Herstoricals, and bought Herstoricals.com the domain (no one had it!). I am creating a student read/acted program based on the play. Now I just need to build the website, because of course, if I build it, they will … you know the rest! Will keep you posted on that as well.
Don't forget to tune in on Thursdays at 8:20 am (or archive) to hear either me doing my Fabulous Female Facts, or Laffy, Nicole and I, as The Gliberal Goddesses on Nicole Sandler's Radio or Not.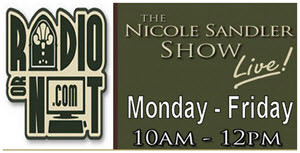 AND NOW FOR SOME TRULY FABULOUS FEMALE FACTS….
Makers.com, the online site with "the largest video collection of women's stories", did a cool little trip back and chose seven women who made history. This inspired to choose more – and of course there are seven thousand more we don't know about….
Let's start with Anne Hutchinson:
In the 1600s, she not only dared to preach to women in public and started her own religion, but dared to question the religious leaders of the day. She was jailed and banished for this, and credited with inspiring the First Amendment!
Mary Wollstonecraft:
in the 1700s, was our first feminist writer with A Vindication of the Rights Of Women. The title says it all. She also gave birth to Mary Shelley, who wrote Frankenstein.
Also in the 1700s, Phillis Wheatley:
was sold into slavery at the age of seven, was a beautiful poet and the first African American (and yes she was from West Africa) woman to be published. Elizabeth Cady Stanton – the architect of the American Women's Movement – called for the first Woman's Rights Convention in 1848 in Seneca Falls, New York, where she asked for – no demanded – the right to vote. She and her business partner and BFF Susan B. Anthony…
worked together for fifty years fighting for women's rights, but did not live to see women vote. They passed that torch to American Alice Paul, mentored in England by Fabulous Female Suffragette Emmeline Pankhurst (who Meryl Streep will portray in an upcoming film).
Alice Paul, who wrote the Equal Rights Amendment in 1923, was a brilliant, Ivy League educated, Nineteenth Amendment passing, militant, hunger-striking suffragist, who hijacked President Wilson's Inauguration parade.
In 1913, she organized the largest parade in Washington history, marching down Pennsylvania Avenue for the right to vote. But the black women were asked to march separately, which did not sit well with one Ida B. Wells.
Wells was a pioneering journalist (whose accomplishments like all of the women you are reading about are too many too mention) who headed an anti-lynching crusade AND pulled a Rosa Parks in Tennessee in 1887 when she refused to leave her coach seat on a train, was forcibly removed, sued, won and then lost, when the ruling was overturned.
Another Ida – Ida Tarbell…
was also a pioneering journalist and original muckraker who exposed corruption at Standard Oil, and drove founder – and monopolizer – John D. Rockefeller crazy when her work resulted in the 1911 U.S. Supreme Court ordering the dissolving of Standard Oil for violating anti-trust laws! Then Congress established the Department of Commerce. Nice work Ida….
Montana's Jeannette Rankin:
was the first woman elected to Congress in 1917 (they had to build a ladies room for her). Pacifist to the end, she was the only member of Congress to vote against World War I AND World War II. "Killing more people won't help matters," she said.
Eleanor Roosevelt…
forever changed the role of First Lady, and in 1971 at the age of fifty, New Yorker Bella Abzug…
was elected to Congress. First day on the job, she tried to get the troops out of Vietnam. She was one of the first members of Congress to ask for Nixon's impeachment and was THE FIRST member of Congress to ask for gay rights. In 1977, she organized the first – AND ONLY – federally funded National Woman's Conference in Houston, Texas, attended by 20,000 peeps, including the glorious Gloria Steinem, Maya Angelou, Coretta Scott King, Barbara Jordan and three First Ladies: Lady Bird Johnson, Rosalynn Carter and Betty Ford.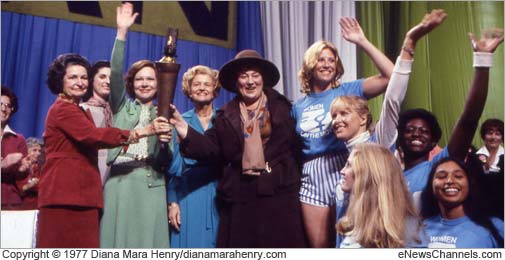 Bella got to work with Shirley Chisholm, the first black woman elected to Congress and the first black woman to run for President. Chisholm said she ran for the office, "in spite of hopeless odds, to demonstrate the sheer will and refusal to accept the status quo." She also said, "Being a woman put more obstacles in my path than being black."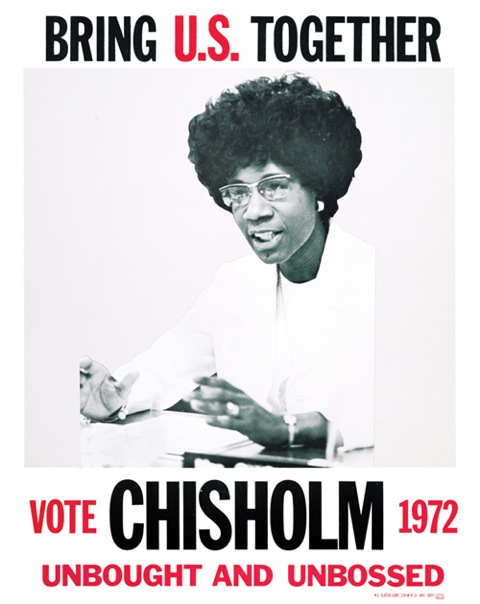 That was in 1972, and in 1872, the first woman to run for President was Victoria Woodhull, who ran on the Equal Rights Party, which she started and paid for with her own money that she made when she opened the first all-female stock brokerage firm on Wall Street. She was known as "The Prostitute Who Ran For President", asked Frederick Douglass to be her running mate (he declined because she was so radical), and spent election day in jail for exposing Preacher Henry Ward Beecher's affairs in her newspaper!
I will spend the rest of my life writing and telling stories of so many fabulous females who made history and our lives better – the Margaret Sangers, Sojourner Truth's, Malala Yousafzai's – the list goes on and on….
Happy Women's History Month! Now go on out there and make some….